Quality Research Papers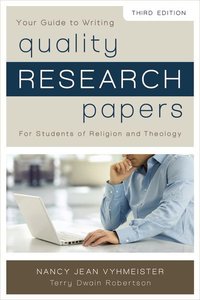 This updated third edition of Quality Research Papers---fast becoming a standard reference textbook for writing research papers in the fields of religion and theology---gives improvements and added material for such things as the expanding field of online research and doing church-related research in a professional manner. Because so many new developments have taken place in the field of research, especially in terms of electronic research, this handy reference explores the ways to do research on the internet, including how to document such research. Quality Research Papers offers great opportunities to students today, especially in distant learning situations, to determine which resources can be used and which should be rejected. For this reason Nancy Vyhmeister brought in Terry Robertson, Seminary Librarian at Andrews University and professor of the seminary master's level research courses. His expertise in library, computers, and the Internet are invaluable to the book. In addition to substantial, current information on electronic resources and online research, this third edition preserves all of the features of the original editions, now presented in a newly revised, more logical order.

- Publisher
You May Also Be Interested In
About "Quality Research Papers"
This updated third edition of Quality Research Papers---fast becoming a standard reference textbook for writing research papers in the fields of religion and theology---gives improvements and added material for such things as the expanding field of online research and doing church-related research in a professional manner. Because so many new developments have taken place in the field of research, especially in terms of electronic research, this handy reference explores the ways to do research on the internet, including how to document such research. Quality Research Papers offers great opportunities to students today, especially in distant learning situations, to determine which resources can be used and which should be rejected. For this reason Nancy Vyhmeister brought in Terry Robertson, Seminary Librarian at Andrews University and professor of the seminary master's level research courses. His expertise in library, computers, and the Internet are invaluable to the book. In addition to substantial, current information on electronic resources and online research, this third edition preserves all of the features of the original editions, now presented in a newly revised, more logical order.
- Publisher


Meet the Authors
Nancy Jean Vyhmeister
Nancy Vyhmeister (EdD, Andrews University) has fifty years of experience in teaching future pastors and professors not only in the United States but throughout the world. She continues to have a global ministry in her retirement years. She has authored several books, both in Spanish and English, including a Greek grammar book for Spanish-speaking students. She was editor of Women in Ministry: Biblical and Historical Perspectives. She currently resides with her husband in Loma Linda, California. SPANISH BIO: Nancy Weber de Vyhmeister es doctora en educacion de la Universidad Andrews. Cuenta con cuarenta y cinco anos de experiencia ensenando a futuros pastores y profesores, no solo en los Estados Unidos, sino en diferentes lugares del mundo. Ahora que esta jubilada continua con su ministerio global de ensenanza e investigacion. Es autora de varios libros en castellano y en ingles, como por ejemplo: Gramatica del griego para estudiantes de habla hispana.
Terry Dwain Robertson
Terry Robertson (MA, Andrews University, MLS Indiana University) is Seminary Librarian at Andrews University and professor of the seminary master's level research courses.
Table Of Contents
Chapters:

1 Introduction

Kinds Of Theological Education Research

2. Biblical Exegesis (updating Sources)

3. Thematic, Topical, Or Literary Research

4. Descriptive Research

5. Program Development

6. Case Study

7. Action Research

8. Writing For Publication

9. Academic Theses And Dissertations (ma Phd)

10. Professional Theses And Dissertations (dmin)

Carrying Out The Research

11. Research Thinking

12. Choosing A Topic

13. Finding Resources

14. Planning Research

15. Reading, Evaluation

16. Computer Tools For Research And Writing

17. Writing Research

18. Parts Of A Paper

19. References And Notes

20. Statistics And Graphic Representation

21. Keeping Honest And Protecting Research Participants

Presentation

21. Paper Format

22. Turabian And Sbl Footnotes And Bibliography

22. Apa And Turabian Parenthetical References And Reference List

23. Conclusion

Appendixes

A. Transliteration Of Biblical Languages

B. List Of Abbreviations Of Reference Works In Theology/religion

C. Tips For The Typist (probably Should Have Different Name...)

D. Us States. I Would Omit, Except This Is Being Used In Other Countries.

E. Bible Book Abbreviations