Quest For Celestia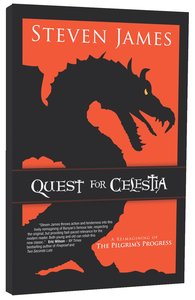 After a chance encounter with a man whom 16-year-old Kadin believes is a wizard, his life and health begin to deteriorate. Out of desperation he embarks on an epic journey to a land no one in his village believes exists, to be healed of a disease no one thinks he has. His quest for truth leads him to a fantastical world of witches, dragons, giants, danger, and deception. Tracked by an evil lord and accompanied by only one friend, Kadin must face his greatest fear to find the healing he longs for most.

A stand-alone fantasy novel, Quest for Celestia is a complete re-imagining of one of the bestselling books of all time, first published more than 300 years ago - The Pilgrim's Progress.

If you think you know the story, think again. Twists lurk around every corner. The journey begins now. Destiny awakes in the hills.



- Publisher According to some experts, "The Pilgrim's Progress" was the second-bestselling book in the world for nearly 200 years, trailing only the Bible. When John Bunyan wrote this epic allegory during his imprisonment for preaching the gospel without permission, he undoubtedly had no idea it would impact the lives of so many millions of believers.
In "Quest for Celestia," Steven James reimagines John Bunyan's epic tale of spiritual discovery, breathing new life into the Christian classic. Fans of The Chronicles
of Narnia and Lord of the Rings will love this unforgettable fantasy/adventure story of a young man's search for meaning and truth in a world full of witches, dragons, giants, danger and deception.
In "Quest for Celestia" James revisits John Bunyan's tale, not through the eyes of a preacher or theologian, but through the eyes of a storyteller. Rather than offer another allegory or paraphrase, James has fleshed out the characters and the storyline that lie at the heart of the narrative and created a fresh new epic. John Bunyan's themes and images and fragments of thought have certainly found their way into this story--but so has the imagination, struggles, and discoveries of an author Publishers Weekly calls "[A] master storyteller at the peak of his game."

- Publisher
You May Also Be Interested In
About "Quest For Celestia"
After a chance encounter with a man whom 16-year-old Kadin believes is a wizard, his life and health begin to deteriorate. Out of desperation he embarks on an epic journey to a land no one in his village believes exists, to be healed of a disease no one thinks he has. His quest for truth leads him to a fantastical world of witches, dragons, giants, danger, and deception. Tracked by an evil lord and accompanied by only one friend, Kadin must face his greatest fear to find the healing he longs for most.

A stand-alone fantasy novel, Quest for Celestia is a complete re-imagining of one of the bestselling books of all time, first published more than 300 years ago - The Pilgrim's Progress.

If you think you know the story, think again. Twists lurk around every corner. The journey begins now. Destiny awakes in the hills.


- Publisher

According to some experts, "The Pilgrim's Progress" was the second-bestselling book in the world for nearly 200 years, trailing only the Bible. When John Bunyan wrote this epic allegory during his imprisonment for preaching the gospel without permission, he undoubtedly had no idea it would impact the lives of so many millions of believers.
In "Quest for Celestia," Steven James reimagines John Bunyan's epic tale of spiritual discovery, breathing new life into the Christian classic. Fans of The Chronicles
of Narnia and Lord of the Rings will love this unforgettable fantasy/adventure story of a young man's search for meaning and truth in a world full of witches, dragons, giants, danger and deception.
In "Quest for Celestia" James revisits John Bunyan's tale, not through the eyes of a preacher or theologian, but through the eyes of a storyteller. Rather than offer another allegory or paraphrase, James has fleshed out the characters and the storyline that lie at the heart of the narrative and created a fresh new epic. John Bunyan's themes and images and fragments of thought have certainly found their way into this story--but so has the imagination, struggles, and discoveries of an author Publishers Weekly calls "[A] master storyteller at the peak of his game."
- Publisher


Meet the Author
Steven James
Steven James is an award-winning author and professional storyteller. He has written more than a dozen books and over 500 articles, stories, and scripts. Steven appears weekly at conferences, churches, schools, and special events around the country sharing his unique blend of drama, comedy, and inspirational speaking. He lives with his wife and three daughters in eastern Tennessee.