Questioning Evangelism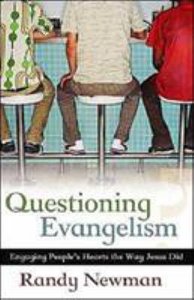 "Viewed from the evangelical perspective, this book borders on the profound. Viewed from any perspective, Newman brings a new meaning to the word evangelism. With huge amounts of compassion, Newman brings apologetics into evangelism and provides practical examples of how to evangelize by asking questions rather than giving answers. An excellent book for folks who want to communicate with their non-Christian friends without being a bigot."

- Publisher A much-needed look at sharing Christ with unbelievers, based not on the techniques of guerrilla hard-sell tactics, but on engaging questions and caring interaction. Filled with humor and stories, this book provides a challenging yet encouraging look at evangelism in our world today. This volume argues that asking questions and starting meaningful conversations is a far better method for sharing faith than prepared lectures or statements. It gives advice on what people need to hear in response to the world around them. Author was raised Jewish and has a unique, rabbinical outlook on evangelismEncouraging and usefulEasy-to-read, conversational styleStudy guide at the end to aid in teaching and discussion

- Publisher A revolutionary look at sharing Christ with unbelievers by using the probing, provocative, and penetrating method Jesus used to engage others in personal dialogue and caring interaction.

- Publisher
You May Also Be Interested In
About "Questioning Evangelism"
"Viewed from the evangelical perspective, this book borders on the profound. Viewed from any perspective, Newman brings a new meaning to the word evangelism. With huge amounts of compassion, Newman brings apologetics into evangelism and provides practical examples of how to evangelize by asking questions rather than giving answers. An excellent book for folks who want to communicate with their non-Christian friends without being a bigot."
- Publisher

A much-needed look at sharing Christ with unbelievers, based not on the techniques of guerrilla hard-sell tactics, but on engaging questions and caring interaction. Filled with humor and stories, this book provides a challenging yet encouraging look at evangelism in our world today. This volume argues that asking questions and starting meaningful conversations is a far better method for sharing faith than prepared lectures or statements. It gives advice on what people need to hear in response to the world around them. Author was raised Jewish and has a unique, rabbinical outlook on evangelismEncouraging and usefulEasy-to-read, conversational styleStudy guide at the end to aid in teaching and discussion
- Publisher

A revolutionary look at sharing Christ with unbelievers by using the probing, provocative, and penetrating method Jesus used to engage others in personal dialogue and caring interaction.
- Publisher


Meet the Author
Randy Newman
Randy Newman has worked with Campus Crusade for more than twenty-five years. He currently works in the Washington, D.C., area, interacting with students, professors, and officers at the Pentagon. He is a frequent conference speaker and specializes in helping people of different backgrounds dialogue about issues of faith.
Customer Reviews For "Questioning Evangelism"
Write Your Own Review
Modern take on evangelism
By Tanwin,

Feb 18 2017
I think the title of this book needs clarification. At first I thought the book was about questioning evangelism, as in doubting evangelism or putting evangelism into question. But the book is actually about "questioning" evangelism, as in evangelism using the method of questioning.

We are living in a complex world where people are asking complex questions that weren't asked a few decades ago. This book addresses that gap not using brilliant apologetical answers, but to encourage us to engage the public with questions.

Using Jewish (the author is Jewish) learning method and Jesus' own method to answer questions, Newman demonstrates how answering questions with questions can benefit us as we engage with nonbelievers and proclaim the gospel at the same time. 

This is a timely, modern, and unique book to present a new "old" way of evangelism and in engaging the public. Highly recommend!

---
Refreshing and Inspiring
By Karen ,

Dec 23 2016
Randy Newman's book provides an alternative approach to evangelism, through questions  - hence the word play of the title which could possibly be misunderstood. He is not questioning the need for evangelism but rather how we do it and suggesting that in our post-modern (even post-truth now) world questions are an effective way to share the gospel. He backs this up with sound Biblical content and engaging personal stories. 

He is willing to share about his own mistakes and struggles in this area, which coming from someone who's spent a lifetime in evangelism ministry makes book all the more authentic and encouraging. Newman grapples with the challenges of sharing the gospel in an honest way that will strike a chord with both readers and those whose lives they touch as a result of this book. 

Personally, when I read this book I felt like I'd found the missing puzzle piece when it came to evangelism. It's relevant, engaging, very readable (not overly academic), totally Biblical, and most of all very do-able.  
---
The first book on evangelism everyone should read.
By Rob,

Jan 08 2013
I have read a number of books on evangelising thinking-types (where there is discussion back and forth, arguments and 'stumbling blocks' to be removed and this is by far the best. Randy Newman has worked on university campuses for many years and knows his stuff. The title 'Questioning Evangelism' refers to a method of evangelism that involves asking questions (rather than question the neccesity of evangelism or something like that). The book is surprisingly easy reading - I'd even describe it as a page turner. If you want a book that inspires you to evangelise and gives you a really useful set of tools to do so with, this is the best you'll find.
{{review.title}}
By {{review.author.name}},

{{review.reviewCreatedDate | date:'MMM dd yyyy'}}

{{reviewdescription}}
{{review.text}}
---