Questions You Can't Ask Your Mama About Sex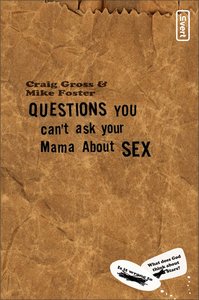 Not the birds and the bee's, guys' plumbing vs. girls' plumbing, how-it-all-works talk. Let's talk about sexuality; your sexuality and the sexuality of others. Let's talk about what is and isn't okay to look at, do, and think about.Questions You Can't Ask Your Mama About Sex is exactly that-questions too uncomfortable to talk about with your parents. This collection of discussions is drawn from real questions asked of the folks at XXXchurch.com. No topic is off limits-masturbation, pre-marital sex, technical virginity, pornography, homosexuality, sex toys, sex addiction.Not for the squeamish, these issues focus on the culture and commerce of sex to tell you what God has to say about keeping your clothes on. If you have questions about "doin' it" that are burning a hole in the back of your head (or somewhere else on your body), look no further than this book.

- Publisher
You May Also Be Interested In
About "Questions You Can't Ask Your Mama About Sex"
Not the birds and the bee's, guys' plumbing vs. girls' plumbing, how-it-all-works talk. Let's talk about sexuality; your sexuality and the sexuality of others. Let's talk about what is and isn't okay to look at, do, and think about.Questions You Can't Ask Your Mama About Sex is exactly that-questions too uncomfortable to talk about with your parents. This collection of discussions is drawn from real questions asked of the folks at XXXchurch.com. No topic is off limits-masturbation, pre-marital sex, technical virginity, pornography, homosexuality, sex toys, sex addiction.Not for the squeamish, these issues focus on the culture and commerce of sex to tell you what God has to say about keeping your clothes on. If you have questions about "doin' it" that are burning a hole in the back of your head (or somewhere else on your body), look no further than this book.
- Publisher


Meet the Authors
Craig Gross
Craig Gross founded Fireproof Ministries and XXXchurch.com and is the author of several books, including The Dirty Little Secret; Questions You Can't Ask Your Mama about Sex; The Gutter and Jesus Loves You This I Know. Craig recently started Strip Church in Las Vegas, Nevada, where he lives with his wife, Jeanette, and their children, previously he served on the staff at Mars Hill Church, Grand Rapids, Michigan. Most recently he has published Eyes of Integrity: The Porn Pandemic and How It Affects You with Jason Harper
Mike Foster
Mike Foster is the Founder and Senior Creative Principal at PlainJoe Studios, a national design firm specializing in strategic ideation, interactive media, and environmental design. He leads a large team of creatives at the studio and works with a vast array of clients in both for-profit and non-profit arenas. The firm is a highly regarded creative think tank and has won numerous awards for their work. Mike also leads Ethur, which is a non-profit organization developing initiatives that promote social and cultural change. Mike lives with his wife, Jennifer, and their two children in Southern California.