Quick-Reference Guide to Counceling Women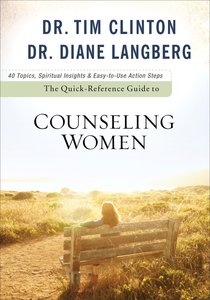 The newest addition to the popular Quick-Reference Guide collection, The Quick-Reference Guide to Counseling Women focuses on the special needs of women in counseling situations. It is an A-Z guide for assisting people-helpers--pastors, professional counselors, youth workers, and everyday believers--to easily access a full array of information to aid them in formal and informal counseling situations. Each of the 40 topics covered follows a helpful eight-part outline and identifies (1) typical symptoms and patterns, (2) definitions and key thoughts, (3) questions to ask, (4) directions for the conversation, (5) action steps, (6) biblical insights, (7) prayer starters, and (8) recommended resources.

- Publisher
You May Also Be Interested In
About "Quick-Reference Guide to Counceling Women"
The newest addition to the popular Quick-Reference Guide collection, The Quick-Reference Guide to Counseling Women focuses on the special needs of women in counseling situations. It is an A-Z guide for assisting people-helpers--pastors, professional counselors, youth workers, and everyday believers--to easily access a full array of information to aid them in formal and informal counseling situations. Each of the 40 topics covered follows a helpful eight-part outline and identifies (1) typical symptoms and patterns, (2) definitions and key thoughts, (3) questions to ask, (4) directions for the conversation, (5) action steps, (6) biblical insights, (7) prayer starters, and (8) recommended resources.
- Publisher


Meet the Authors
Tim Clinton
Dr. Tim Clinton,(Ed.D., The College of William and Mary, LPC, LMFT) is president of the American Association of Christian Counselors. He is professor of Counseling and Pastoral Care at Liberty University and is executive director of the Liberty University Center for Counseling and Family Studies
Dr Clinton is the Executive Editor and co-author of Caring for People God's Way: A New Guide to Christian Counseling and Competent Christian Counseling: Foundations and Practice of Compassionate Soul Care.
He was Executive Editor and a primary writer for The Soul Care Bible and the author of Attachments: Unlock the Secret to Loving and Being Loved; Why You Do the Things You Do: The Secret to Healthy Relationships, Loving Your Child Too Much: Staying Close to your Kids without Overprotecting, Overindulging, or Overcontrolling and Turn Your Life Around: Breaking Free from Your Past and Discovering God's Dream for You.
Diane Langberg
Diane Langberg, Ph.D., has been a licensed psychologist in private practice for twenty-five years; for nearly all of those years she has worked with survivors of sexual abuse. She is a speaker at local and national conferences for clergy, women, couples, students, and professional counselors. Dr. Langberg writes the counselor column in Today's Christian Woman magazine and has also written for Partnership magazine, Urban Mission Journal, and Christian Counseling Today. Her books include Counsel for Pastors' Wives (Zondervan, 1988), On the Threshold of Hope: Opening the Door to Healing for Survivors of Sexual Abuse (Tyndale, 1999) and Counseling Survivors of Sexual Abuse (Xulon, 2003).-Editorial Review. .