Quiet Confidence For a Woman's Heart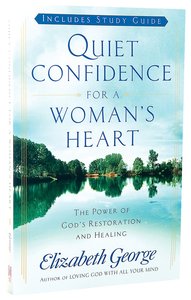 This inspiring devotional journey through Psalm 23 encourages women to walk ever more closely with God. Bestselling author Elizabeth George shows women 12 truths that will help them in every season of life.

As readers discover how David, a man of faith and failure, overcame his challenges and built his trust in God, they will uncover strength for their own journey as they embrace promises of provision for all that a woman needs:
- healing of brokenness and past wounds
- comfort for the trials
- protection for their physical and spiritual journey
- guidance for decisions and choices.

God's assurances create a powerful foundation for every woman to stand on and depend on as they live out a life of faith and hope with an unfailing confidence in Christ.



- Publisher
You May Also Be Interested In
About "Quiet Confidence For a Woman's Heart"
This inspiring devotional journey through Psalm 23 encourages women to walk ever more closely with God. Bestselling author Elizabeth George shows women 12 truths that will help them in every season of life.

As readers discover how David, a man of faith and failure, overcame his challenges and built his trust in God, they will uncover strength for their own journey as they embrace promises of provision for all that a woman needs:
- healing of brokenness and past wounds
- comfort for the trials
- protection for their physical and spiritual journey
- guidance for decisions and choices.

God's assurances create a powerful foundation for every woman to stand on and depend on as they live out a life of faith and hope with an unfailing confidence in Christ.


- Publisher


Meet the Author
Elizabeth George
Elizabeth George, whose books have sold more than 4.8 million copies, is the author of A Woman After Gods Own Heart (more than 930,000 copies sold) and Walking with the Women of the Bible. Shes also a popular speaker at Christian womens events. Elizabeth and her husband, Jim, are parents and grandparents, and have been active in ministry for more than 30 years.