Radical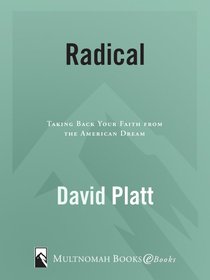 New York Times bestseller

What is Jesus worth to you?

It's easy for American Christians to forget how Jesus said his followers would actually live, what their new lifestyle would actually look like. They would, he said, leave behind security, money, convenience, even family for him. They would abandon everything for the gospel. They would take up their crosses daily...

But who do you know who lives like that? Do you?

In Radical, David Platt challenges you to consider with an open heart how we have manipulated the gospel to fit our cultural preferences. He shows what Jesus actually said about being his disciple--then invites you to believe and obey what you have heard. And he tells the dramatic story of what is happening as a "successful" suburban church decides to get serious about the gospel according to Jesus.

Finally, he urges you to join in The Radical Experiment -- a one-year journey in authentic discipleship that will transform how you live in a world that desperately needs the Good News Jesus came to bring.

- Publisher
You May Also Be Interested In
About "Radical"
New York Times bestseller

What is Jesus worth to you?

It's easy for American Christians to forget how Jesus said his followers would actually live, what their new lifestyle would actually look like. They would, he said, leave behind security, money, convenience, even family for him. They would abandon everything for the gospel. They would take up their crosses daily...

But who do you know who lives like that? Do you?

In Radical, David Platt challenges you to consider with an open heart how we have manipulated the gospel to fit our cultural preferences. He shows what Jesus actually said about being his disciple--then invites you to believe and obey what you have heard. And he tells the dramatic story of what is happening as a "successful" suburban church decides to get serious about the gospel according to Jesus.

Finally, he urges you to join in The Radical Experiment -- a one-year journey in authentic discipleship that will transform how you live in a world that desperately needs the Good News Jesus came to bring.
- Publisher


Meet the Author
David Platt
David Plattis pastor of the Church at Brook Hills in Birmingham, Alabama. He holds a Ph.D. from New Orleans Baptist Theological Seminary and is the author of the best-selling book,Radical: Taking Back Your Faith from the American Dream.
Customer Reviews For "Radical"
Write Your Own Review
A must read for all belivers in the western Church
By Joel Lomman,

Dec 10 2018
This book will challenge your perspective and lead you to complete abandonment for Christ.
---
A must read
By David,

Dec 04 2018
I have lost track of how many copies of this book I have bought - well over 20. I wanted all the leaders at our church to read it, and my family members too.  Because I need all the reminders I can get that this life is not about me and my comfort (or even those I love around me) but about Jesus and his glory.  This book challenges many of the common-sense things we do that seem reasonable but often are steps away from trusting God towards relying on ourselves.  Uncomfortable to read - but that's how you know its important!!
---
Life Changing and Culture Changing
By Madeline,

May 02 2018
This book is short enough that you can read it in an afternoon, and long enough that it can make a lasting impact on your life.

Platt uses personal stories and scriptural references to show how we as a Western society have fallen into the trap of being comfortable in our Christianity, when we should be making ourselves uncomfortable for God. What stood out to me most was gaining an understanding that there are so many people in the world that have never heard the name of Jesus and as Christians it is our job to make sure that they hear it - God didn't make a plan B. 

I recommend this as a must read for every Christian, especially if you feel that familiar God-itch to begin making a radical change in your life and your culture.
---
A Book to Challenge the Life You're Living :)
By Tricia,

Jan 13 2018
This was definitely worth reading, and has helped me to take steps to change my life for the better (I've now been encouraged to work towards setting aside some money for the disadvantaged and for the Church, instead of languishing in my wealth. And I've realised the importance of spreading the message of God both in the community and through overseas mission work) Want to know why? David Platt will tell you, with his experience as a pastor leading a large church, and doing mission work and hearing the stories and struggles of poorer communities.
My only concerns are that it is a bit pricey and when discussing megachurches is geared towards the US, although I believe it is important to hear about Christians all over the world living together in Christ. The book still has a very powerful message and practical, realistic, key points to take away!! I would recommend it for adults and senior high school students.
---
An Important Book Which is Essential Reading
By Dr. Bernard Low,

Mar 02 2017
In this important book, David Platt challenges the Christian reader to examine whether our Christian faith has been influenced, compromised and hence cheapened by the surrounding culture and its values-system. Accustomed to "worshipping" Christ in multi-million dollar comfortable facilities and following Him with many so-called discipleship programmes which meet our felt-needs, today's Christians might have lost sight of what it is to follow Christ with utter abandon and sacrificial commitment. If Christ is Who He claims to be and if Christian discipleship demands nothing less than giving Christ all that we have, we cannot but be His radical followers who would love Him more than we love our security, money, convenience and even family. Reading this book, one cannot but be deeply challenged by Platt to take our discipleship seriously and to follow Christ with utter abandon! Highly recommended.
{{review.title}}
By {{review.author.name}},

{{review.reviewCreatedDate | date:'MMM dd yyyy'}}

{{reviewdescription}}
{{review.text}}
---