Radical Forgiveness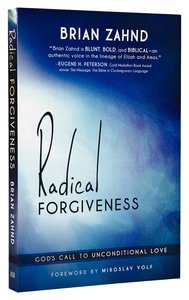 &Are you really sure you understand God&'s viewpoint about forgiveness and mercy?If Christianity is to be a compelling and relevant voice in the twenty-first century, it needs a fresh message&-not a new innovation or novel interpretation, but a return to our roots. If Christianity is not about forgiveness, it&'s about nothing at all.In this book readers will be confronted with the stark reality of how deeply we need to reach within to really show Christlike forgiveness and mercy to those to whom we may feel least inclined to offer forgiveness or mercy. The author&'s primary motive in writing this book is to help recover the true beauty of Christianity as found in forgiveness.This book begins with the Holocaust as it explores what forgiveness means&-and how far it should go&-in the real world of murder, rape, child abuse, genocide, and other atrocities. It pushes the reader beyond the usual biblical exposition of the topic of forgiveness and challenges their thinking by juxtaposi

- Publisher
You May Also Be Interested In
About "Radical Forgiveness"
&Are you really sure you understand God&'s viewpoint about forgiveness and mercy?If Christianity is to be a compelling and relevant voice in the twenty-first century, it needs a fresh message&-not a new innovation or novel interpretation, but a return to our roots. If Christianity is not about forgiveness, it&'s about nothing at all.In this book readers will be confronted with the stark reality of how deeply we need to reach within to really show Christlike forgiveness and mercy to those to whom we may feel least inclined to offer forgiveness or mercy. The author&'s primary motive in writing this book is to help recover the true beauty of Christianity as found in forgiveness.This book begins with the Holocaust as it explores what forgiveness means&-and how far it should go&-in the real world of murder, rape, child abuse, genocide, and other atrocities. It pushes the reader beyond the usual biblical exposition of the topic of forgiveness and challenges their thinking by juxtaposi
- Publisher


Meet the Author
Brian Zahnd
Brian Zahnd and his wife, Peri, founded Word of Life Church in St. Joseph, Missouri. The church has experienced remarkable growth, and now has over 4,000 active members. He also travels throughout the nation and overseas ministering in churches, international crusades, and pastors' seminars. He and Peri have three sons.