Raiders From the Sea (#01 in Viking Quest Series)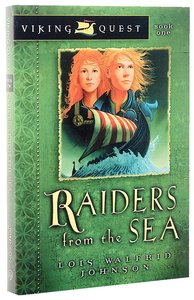 In one harrowing day, Viking raiders capture Bree and her brother Devin and take them from their home in Ireland. After the young Viking prince Mikkel sets Devin free on the Irish coast far from home, Bree and Devin embark on separate journeys to courage. Readers will be captivated by the unfolding drama as Bree sails to Norway on the Viking ship and Devin travels the dangerous road home. They both must trust their all-powerful God in the midst of difficult situations.


- Publisher Thirteen-year-old Bree asks God for protection when she and her brother Devin are captured and taken from their home on the Irish coast by Viking raiders in the late tenth century.

- Publisher When Briana O'Toole rescues a stranger from drowning, she doesn't realize that her actions may have put her family and village in danger. Then, in one frightening day, Viking raiders capture Bree and her brother Devin and take them away from their home in Ireland. All of the Irish prisoners are at the mercy of Mikkel, the proud young leader of the Vikings. Separated by Mikkel, Bree and Devin each face different journeys to courage. As Bree sails toward a life of slavery in Norway and as Devin struggles to survive on his own, they must choose to trust God in spite of the troubles they face. When everything is against them, where will Bree and Devin find the courage to win? Book jacket.

- Publisher
You May Also Be Interested In
About "Raiders From the Sea (#01 in Viking Quest Series)"
In one harrowing day, Viking raiders capture Bree and her brother Devin and take them from their home in Ireland. After the young Viking prince Mikkel sets Devin free on the Irish coast far from home, Bree and Devin embark on separate journeys to courage. Readers will be captivated by the unfolding drama as Bree sails to Norway on the Viking ship and Devin travels the dangerous road home. They both must trust their all-powerful God in the midst of difficult situations.

- Publisher

Thirteen-year-old Bree asks God for protection when she and her brother Devin are captured and taken from their home on the Irish coast by Viking raiders in the late tenth century.
- Publisher

When Briana O'Toole rescues a stranger from drowning, she doesn't realize that her actions may have put her family and village in danger. Then, in one frightening day, Viking raiders capture Bree and her brother Devin and take them away from their home in Ireland. All of the Irish prisoners are at the mercy of Mikkel, the proud young leader of the Vikings. Separated by Mikkel, Bree and Devin each face different journeys to courage. As Bree sails toward a life of slavery in Norway and as Devin struggles to survive on his own, they must choose to trust God in spite of the troubles they face. When everything is against them, where will Bree and Devin find the courage to win? Book jacket.
- Publisher


Meet the Author
Lois Walfrid Johnson
LOIS WALFRID JOHNSON is the best-selling author of more than 30 books for children and adults. Her books and shorter pieces have received a variety of awards, including the Gold Medallion Book Award, the C.S. Lewis Award for Best Series, and five Silver Angels from Excellence in Media. Lois loves talking with kids and writing edge-of-your-seat adventures.
Table Of Contents
1. Hidden Threat

2. The Warning

3. Bree's Birthday

4. Forest Hideaway

5. Race For Life

6. Dragon In The Night

7. Secret Mission

8. Heart Of Mercy?

9. Journey Into The Unknown

10. Heart Of Stone

11. Jeremy Keeps Watch

12. The Red Shirt
Customer Reviews For "Raiders From the Sea (#01 in Viking Quest Series)"
Write Your Own Review
Thrilling Adventure
By Amy,

Jan 04 2018
Join Bree as she travels across the sea on an epic adventure of drama, action and love.
Feel like you are with Bree as she learns to forgive and trust God with her whole life.
Easy read but great story and written really well.
---
Amazing adventure
By Emily,

Mar 29 2017
Raises From the Sea is the first book in the Viking Quest series. When Vikings come and raid Brianna O'Toole's village, she and her brother Devin are two of the people captured. Will Brianna trust God through all the trials that are to come? I have read this book over five times. It is full of action and adventure. Great for ages 10-16. Don't miss Brianna's amazing adventure!
---
Fantastic Read for Children
By Kirrily,

Dec 30 2016
Purchased the first two in this series for my 9yo son - he thoroughly enjoyed reading them and can't wait for the rest of the series. A great read with good underlying Christian lessons. 
---
Great Historical Fiction
By Lou,

Apr 19 2016
My children (12  10yo) were given these books by a friends.  They both loved them and convinced me to read them as well.  Set in the time of the Vikings the series does a great job at describing the culture of the time as well as keeping you wondering what will happen next.  If you are into historical fiction you will really enjoy these.  One disappointment is that all five books really need to be read as a whole rather than as stand alone books.  You can probably read just one but you won't be satisfied until you have read all five.  I'd highly recommend the series.
---
Must-read for kids!
By Laura,

Mar 21 2016
Bree and Devin are Irish siblings living in the late 10th century, a time when girls were scorned at and other people groups were terrified of Vikings. They face impossible situations and learn to rely on God more than ever before. I absolutely love this book! Some of my favourite elements are the strong Christian message and the fact that Bree and Devin are siblings who love, support and lookout for each other. I have read it many times and it continues to be a favourite. This is a 5-star, must-read book for boys and girls age 10 up.
{{review.title}}
By {{review.author.name}},

{{review.reviewCreatedDate | date:'MMM dd yyyy'}}

{{reviewdescription}}
{{review.text}}
---
Other Titles In The "Viking Quest" Series View All