Raising Dad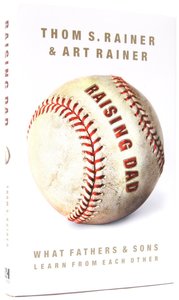 In this tribute to dads, a CBA best-selling author and his son alternate highly personal memories of parenting successes and failures, striking a chord with readers that parents often learn as much from their children as children do from them. Father Thom Rainer shares his experience with the reader that often his memories of his parenting past aren't as rose-colored as those of his son Art. From Saturdays spent watching college sports to childhood McDonald's runs, thoughtful snapshots of the Rainer's father-son relationship will inspire readers never to stop growing or learning as a parents. The father-and-son turn-taking in the narrative captures the heart of fatherhood and the power of simple moments.

- Publisher
You May Also Be Interested In
About "Raising Dad"
In this tribute to dads, a CBA best-selling author and his son alternate highly personal memories of parenting successes and failures, striking a chord with readers that parents often learn as much from their children as children do from them. Father Thom Rainer shares his experience with the reader that often his memories of his parenting past aren't as rose-colored as those of his son Art. From Saturdays spent watching college sports to childhood McDonald's runs, thoughtful snapshots of the Rainer's father-son relationship will inspire readers never to stop growing or learning as a parents. The father-and-son turn-taking in the narrative captures the heart of fatherhood and the power of simple moments.
- Publisher


Meet the Authors
Thom S Rainer
Thom S. Rainer (Ph.D., Southern Baptist Theological Seminary) is president and CEO of LifeWay Christian Resources in Nashville, Tennessee. He was founding dean of the Billy Graham School of Missions, Evangelism and Church Growth at the Southern Baptist Theological Seminary. His many books include Surprising Insights from the Unchurched,;The Unexpected Journey; Simple Church and Breakout Churches
Art Rainer
Art Rainer serves on the staff of First Baptist Church of West Palm Beach, Florida. He is an MBA graduate of the University of Kentucky, and is currently pursuing a doctorate in business administration. He is married to Sarah.