Raising Girls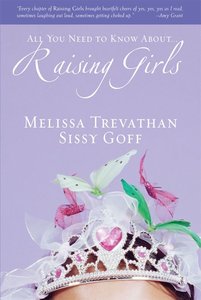 Raising Girls journeys into the heart of girls to help parents understand their daughter's different stages of development: what is normal, what is not, and how to relate effectively. Drawing on fifty-five years of combined counseling experience, the authors help parents call out the unique identity God has given their daughter.
You May Also Be Interested In
About "Raising Girls"
Raising Girls journeys into the heart of girls to help parents understand their daughter's different stages of development: what is normal, what is not, and how to relate effectively. Drawing on fifty-five years of combined counseling experience, the authors help parents call out the unique identity God has given their daughter.
- Koorong

"My six-year-old fusses with her hair for hours. Is this normal?""Yesterday my seventh grader was all sunshine. Today she's wearing black and won't leave her room.""I'm worried my teenager may have an eating disorder."In today's complex world, parenting a girl is harder than ever. It takes more than love. It takes insight into the things that make your daughter tick as she grows from childhood to young adulthood.Drawing on the authors' fifty-plus years of combined counseling experience, Raising Girls takes you inside the mind and soul of your girl. You'll obtain seasoned, expert insights on. Your daughter's different stages of development from ages zero to nineteen. How you can effectively relate to her at each stage. What is normal behavior, what isn't, and when and how to intervene. How to deal with self-destructive behavior such as eating disorders, cutting, or experimentation with alcohol. ... and much moreSpiced with stories, humor, and much reassurance, Raising Girls will help you encourage your daughter, challenge her, love her, and help her discover who God is creating her to be.
- Publisher


Meet the Authors
Melissa Trevathan
Melissa Trevathan has been a youth director, a teacher, a retreat leader, and is now the founder and executive director of Daystar Counseling Ministries in Nashville. She's worked with kids, teenagers, and adults for over 40 years. She's been a guest on TV and radio programs in the US and Canada, and cowrote two other books with Sissy Goff. When she isn't counseling, writing, or teaching seminars, she hangs out with her old English sheepdog, Molasses. SPANISH BIO: Melissa Trevathan, licenciada en educacion religiosa, es la fundadora y directora ejecutiva de los Ministerios de Consejeria Daysta
Sissy Goff
Sissy Goff has been the director of child and adolescent counseling at Daystar since 1993. She's been a guest on TV and radio programs across the US and Canada and speaks at churches, schools, youth conventions, and parenting seminars. She's written for CCM magazine and cowrote two other books with Melissa Trevathan. Sissy lives in Nashville with her little Maltese, Noel. SPANISH BIO: Sissy Goff, licenciada en educacion, licenciad en consejeroor profesional-MSHP, es directora de consejeria a nonos y adolescentes en Daystar. Es miembro de la Asociacion Americana de Consejeros Cristianos. Partic