Raising Godly Children in An Ungodly World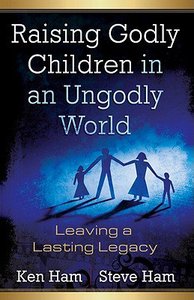 HOW TO RAISE YOUR CHILDREN WITH GODLY VALUES IN A WORLD FULL OF UNGODLY VALUES. THE AUTHOR SHOWS HOW THEIR FATHER RAISED THEM AND WHAT IT HAS DONE TO MAKE THEIR LIVES SUCCESSFUL IN THE MINISTRY.

- Publisher
You May Also Be Interested In
About "Raising Godly Children in An Ungodly World"
HOW TO RAISE YOUR CHILDREN WITH GODLY VALUES IN A WORLD FULL OF UNGODLY VALUES. THE AUTHOR SHOWS HOW THEIR FATHER RAISED THEM AND WHAT IT HAS DONE TO MAKE THEIR LIVES SUCCESSFUL IN THE MINISTRY.
- Publisher


Meet the Authors
Ken Ham
An accomplised author of some of the most popular and effective apologetic
resources on the market, Ken Ham is also the founder of Answers in Genesis-U.
S. andthe president of the Creation Museum. He is also one of the most
in-demand Christian speaker at hundreds of venues to tens of thousands of
believers across the globe each year.
Steve Ham
Ken Ham is the president/CEO and founder of Answers in Genesis - U.S. and the highly acclaimed Creation Museum. Ken Ham is one of the most in-demand Christian speakers in North America. Ken's emphasis is on the relevance and authority of the book of Genesis and how compromise on Genesis has opened a dangerous door regarding how the culture and church view biblical authority. His Australian accent, keen sense of humor, captivating stories, and exceptional PowerPoint illustrations have made him one of North America's most effective Christian communicators.