Raising Sons and Loving It!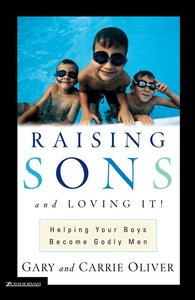 Gary Oliver is a psychologist for Southwest Counselling Associates in Denver, Colorado. He and his wife, Carrie, are the parents of three boys. Discussing the unique challenges and opportunities of parenting sons, they plot a plan for helping boys to become godly men. 224 pages, from Zondervan.
You May Also Be Interested In
About "Raising Sons and Loving It!"
Gary Oliver is a psychologist for Southwest Counselling Associates in Denver, Colorado. He and his wife, Carrie, are the parents of three boys. Discussing the unique challenges and opportunities of parenting sons, they plot a plan for helping boys to become godly men. 224 pages, from Zondervan.
- Koorong

In these days of daunting headlines, here's some really good news: Your son was God's idea, and you can help him weather the often rocky transition from boyhood to a manhood shaped by God's character and purposes. Drawing from their extensive clinical and personal experience, Gary and Carrie Oliver show you - How boys really are different from girls - Five keys to raising "emotionally intelligent" sons - What your boys need from your marriage -- and from you - How to help your sons cultivate a heart for God - How to cultivate your sons' ability to deal with failure, loss, and grief . . . And much more.
- Publisher

15 Chapters
- Publisher


Meet the Authors
Gary J Oliver
Gary J. Oliver, ThM, PhD, a clinical psychologist with more that 30 years experience in premarital, marital, and family counseling, is Executive Director of The Center for Relationship Enrichment and Professor of Psychology and Practical Theology at John Brown University, on the faculty of Denver Seminary, on the executive board and national speaking team of the American Association of Christian Counselors, and author or coauthor of more than 15 books, including A Woman's Forbidden Emotion, and with his wife, Carrie, Raising Sons and Loving It. Carrie Oliver, MA, is a national speaker, author,
Carrie Oliver
Carrie Oliver was a clinical therapist at The Center for Marriage and Family Studies at John Brown University, where she specialized in marriage and family counseling, anxiety disorders, and women's issues.
Table Of Contents
Contents

Introduction: The Masculine Crisis

1. The Unique Challenge Of Raising Boys

2. Why Boys Act The Way They Do

3. Are Boys Really That Different?

4. Made In God's Image: Balancing Mind, Will, And Emotions

5. Cultivating The Emotions Of Your Son

6. What Type Of Son Do You Have?

7. Anger: Understanding The

Fundamental Male Emotion

8. Helping Your Son Cultivate Healthy Anger

9. Responding To The Emotions Your

Son Evokes From You

10. What Boys Need From Their Dad

11. What Boys Need From Their Mom

12.what Boys Need From Your Marriage

13. Helping Your Son Cultivate A Heart For God: Discipleship And Parenting

14. Helping Your Son Move From Adolescence To Adulthood: Early Adolescence (ages 13 -- 15)

15. Helping Your Son Move From Adolescence To Adulthood: Late Adolescence (ages 16 -- 19)

Conclusion: Caring Is Not Enough

Recommended Reading

Notes
Excerpt
Excerpt from: Raising Sons and Loving It!
Introduction The Masculine Crisis Out of the country and enjoying a much-needed vacation, we were in the checkout line in a grocery store and happened to glance at a television monitor displaying a CNN newscast. Suddenly the picture switched from a report on the Kosovo crisis to a breaking news! screen. Early into the story we noticed the small print at the bottom of the screen: columbine high school, littleton, colorado. Littleton had been our home for a dozen years before moving within the last year to John Brown University in Arkansas, so we were especially concerned about what was happening back in our former hometown. Even the reporters weren't sure what was happening but mentioned at least a couple of gunmen. Witnesses said they had heard numerous gunshots and seen dead and wounded students. In the hours that followed we saw anguished parents waiting for hours as police teams sealed off the area; student survivors who were either in tears or trying to look cool while reporting bodies lying dead in a school library; and photos of teenage killers who had that morning departed for school with guns, bombs, and booby traps --- bent on a fatal mission. The killers, we learned in the days to come, had hung out with a small group who called themselves the Trench Coat Mafia. Rain or shine, they wore black trench coats, sported swastikas on their clothing, advocated white supremacy, played war games, threatened friends and neighbors with death and destruction, and made a video they showed in one of their classes that hinted at the lethal spree they eventually acted out. Most of their classmates thought they were harmless. They apparently chose Hitler's birthday to prove otherwise. On April 20, 1999, the time bomb of hatred, bitterness, resentment, and repressed anger exploded at Columbine High School and was heard around the world. Targeting kids they knew to be Christians . . . targeting the popular jocks who had made fun of them . . . targeting at least one black boy . . . the two Columbine seniors gunned their way through a well-planned and bloody rampage that left one teacher and twelve students dead, and a score wounded. Then, according to police, Eric Harris and Dylan Klebold took their own lives. In the days following the massacre, the media scrambled to explain its cause: A diet of violent movies? Video games, whose aim was to see how many cyber-characters you can 'kill'? Uninvolved, out-of-touch, ill-informed parents? Schools with too few metal detectors and security guards? The easy availability of guns? Or was it, as one commentator observed, the logical conclusion of a postmodern society that has refused to believe in absolutes, in basic morals, in the existence of right and wrong, in the importance of character and discipline? Tragically, the Columbine shooting is singular only by virtue of its magnitude. On February 2, 1996, a fourteen-year-old walked into algebra class at a junior high school in Moses Lake, Washington, killing the teacher and two students. On October 1, 1997, a sixteen-year-old in Pearl, Mississippi, killed his mother --- then went to school and shot nine students, two fatally. On December 1, 1997, a fourteen-year-old went to his West Paducah, Kentucky, school and killed three students who were praying in a school hallway and wounded five others. On March 24, 1998, two boys in Jonesboro, Arkansas, aged eleven and thirteen, tripped a fire alarm, then shot into the lines of students as they evacuated the building, killing four classmates and a teacher. On April 24, 1998, a fourteen-year-old in Pennsylvania (nicknamed Satan) took his father's pistol and went to his middle school prom, killed the faculty sponsor, and wounded several others. On May 19, 1998, in Fayetteville, Tennessee, an eighteen-year-old student allegedly shot to death a classmate in the school parking lot. Two days later in Springfield, Oregon, a fifteen-year-old entered Thurston High School with three guns, killing two teenagers and wounding more than twenty. The police later found that his parents had been shot to death at home. Confused by society's mixed messages about what's expected of them as boys, about what it means to be a man; feeling out of touch with emotions they don't understand and don't know how to deal with; raised in a culture that glorifies violence and declares that there are no absolutes --- with weights like these, many young men feel a sadness and disconnection they cannot even name. Even if they understood it, most of them don't have the skills or the words to talk about it --- or the people they would feel comfortable talking to. As staggering as these stories are, a common thread running through them all makes them even more distressing. In every one of these shootings the murderer was a boy. At the time of this writing, there are sixty-some adolescents on death row --- and all are boys. The travesties of which Littleton is only the latest are just one indicator that these are difficult and challenging days to be a boy and to raise a boy. In this book you will read about new research showing that boys are doing worse in school than they did in the past . . . that, compared to girls, many seemingly strong boys have remarkably fragile self-esteem . . . that the rates of both depression and suicide in boys are frighteningly on the rise. It is no exaggeration to say that today there is a crisis of masculinity. In the process of raising three boys, we have experienced the pressures of parents raising sons. The media, and especially television, seem to sucker boys into equating masculinity with sexual experience. We live in a culture that is increasingly violent, a culture that provides opportunity --- especially in video games --- for even young boys to express violence. One more book is not going to solve a problem this big. Yet, as a result of our research and an ongoing desire to learn more about males, we submit this book in the hopes of making at least a small contribution to the welfare of sons --- yours and ours.