Raw Spirituality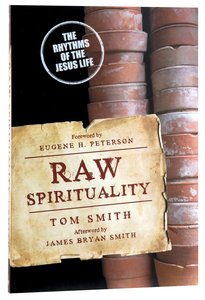 Have you ever felt the imbalance between personal spirituality and outward service in the world? In this raw, honest, whole-life approach to Christian living, Tom Smith guides us into a "rhythm of life" that brings together inner spiritual development and everyday actions.
You May Also Be Interested In
About "Raw Spirituality"
Have you ever felt the imbalance between personal spirituality and outward service in the world? In this raw, honest, whole-life approach to Christian living, Tom Smith guides us into a "rhythm of life" that brings together inner spiritual development and everyday actions.
- Koorong

:Have you ever felt the imbalance between personal spirituality and outward service in the world? There are missional activists who are becoming bitter, tired and burnt out, but there are contemplatives who are blinded by their pietism and struggle connecting their spirituality with the world around them. All Christians feel this tension&m-so how do we allow the life of Jesus to flow through our whole bodies into our everyday lives? Having Jesus in our hearts is not enough. Our spirituality must involve our everyday actions and interactions with others and extend to our sphere of influence. The disembodied Jesus story has not only stunted the growth of the church, but it has also allowed Christians to hurt and oppress those in the world around us. In this raw and honest whole-life approach to Christian formation, Tom Smith directs us into a "rhythm of life" that that brings flourishing to our personal spirituality that then extends to our service in the world.
- Publisher


Meet the Author
Tom Smith
Tom Smith, MD, spent several years as a general practitionerTom Smith, MD, spent several years as a general practitioner and medical researcher before taking up writing full-time. and medical researcher before taking up writing full-time. He contributes regularly to medical journals, has a weekly hHe contributes regularly to medical journals, has a weekly health column in two newspapers and is the author of several ealth column in two newspapers and is the author of several books about living and coping with serious medical conditionbooks about living and coping with serious medical condition
Table Of Contents
:foreword By Eugene Peterson

Introduction

1. Training Naked

2. Jesus With A Six-pack

3. Got Power?

4. Irritating One Another

5. Puzzling The City

6. Jesus Moccasins

7. Downward Mobility

8. Working It Out

9. Learning Jesus

Afterword

Bibliography