Reading Barth With Charity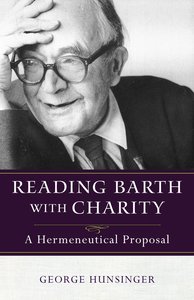 :Karl Barth and his legacy have dominated theology circles for over a decade. In this volume George Hunsinger, a world-renowned expert on Barth's theology, makes an authoritative contribution to the debate concerning Barth's trinitarian theology and doctrine of election. Hunsinger challenges a popular form of Barth interpretation pertaining to the Trinity, demonstrating that there is no major break in Barth's thought between the earlier and the later Barth of the Church Dogmatics. Hunsinger also discusses important issues in trinitarian theology and Christology that extend beyond the contemporary Barth debates. This major statement will be valued by professors and students of systematic theology, scholars, and readers of Barth.

- Publisher
You May Also Be Interested In
About "Reading Barth With Charity"
:Karl Barth and his legacy have dominated theology circles for over a decade. In this volume George Hunsinger, a world-renowned expert on Barth's theology, makes an authoritative contribution to the debate concerning Barth's trinitarian theology and doctrine of election. Hunsinger challenges a popular form of Barth interpretation pertaining to the Trinity, demonstrating that there is no major break in Barth's thought between the earlier and the later Barth of the Church Dogmatics. Hunsinger also discusses important issues in trinitarian theology and Christology that extend beyond the contemporary Barth debates. This major statement will be valued by professors and students of systematic theology, scholars, and readers of Barth.
- Publisher


Meet the Author
George Hunsinger
Dr. George Hunsinger (PhD, Yale University) is McCord Professor of Systematic Theology at Princeton Theological Seminary and founder of the National Religious Campaign Against Torture. From 1997 to 2001, Hunsinger directed Princeton Seminary's Center for Barth Studies. He is the author of How to Read Karl Barth: The Shape of His Theology (Oxford) Philippians (Brazos Theological Commentary on the Bible) and Disruptive Grace: Studies in the Theology of Karl Barth (Eerdmans), and the editor of Torture Is a Moral Issue: Christians, Jews, Muslims, and People of Conscience Speak Out.
-Editorial Review- Koorong.
Table Of Contents
:contents
introduction
1. Grace And Being: the Charter Document
2. Seek God Where He May Be Found: an Important Exchange
interlude
3. Being In Action: the Question Of God's Historicity
4. Two Disputed Points: the Obedience Of The Son And Classical Theism
5. Revisionism Scaled Back: a Partial Dissent
conclusion
indexes