Reading Revelation Responsibly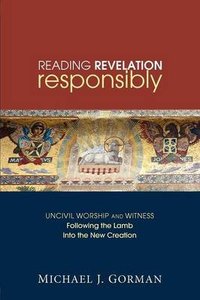 This volume deals with the varied forms of shame reflected in biblical, theological, psychological and anthropological sources. Although traditional theology and church practice concentrate on providing forgiveness for shameful behavior, recent scholarship has discovered the crucial relevance of social shame evoked by mental status, adversity, slavery, abuse, illness, grief and defeat. Anthropologists, sociologists, and psychologists have discovered that unresolved social shame is related to racial and social prejudice, to bullying, crime, genocide, narcissism, post-traumatic stress and other forms of toxic behavior. Eleven leaders in this research participated in a conference on The Shame Factor, sponsored by St. Mark's United Methodist Church in Lincoln, NE in October 2010. Their essays explore the impact and the transformation of shame in a variety of arenas, comprising in this volume a unique and innovative resource for contemporary religion, therapy, ethics, and social analysis.

- Publisher
You May Also Be Interested In
About "Reading Revelation Responsibly"
This volume deals with the varied forms of shame reflected in biblical, theological, psychological and anthropological sources. Although traditional theology and church practice concentrate on providing forgiveness for shameful behavior, recent scholarship has discovered the crucial relevance of social shame evoked by mental status, adversity, slavery, abuse, illness, grief and defeat. Anthropologists, sociologists, and psychologists have discovered that unresolved social shame is related to racial and social prejudice, to bullying, crime, genocide, narcissism, post-traumatic stress and other forms of toxic behavior. Eleven leaders in this research participated in a conference on The Shame Factor, sponsored by St. Mark's United Methodist Church in Lincoln, NE in October 2010. Their essays explore the impact and the transformation of shame in a variety of arenas, comprising in this volume a unique and innovative resource for contemporary religion, therapy, ethics, and social analysis.
- Publisher


Meet the Author
Michael J Gorman
Michael J. Gorman (Ph.D., Princeton Theological Seminary) is Professor of Sacred Scripture and Dean of the Ecumenical Institute of Theology at St. Marys Seminary & University in Baltimore, Maryland, USA. He is the author of Apostle of the Crucified Lord: A Theological Introduction to Paul and His Letters; Cruciformity: Paul's Narrative Spirituality of the Cross; Reading Paul; Scripture: An Ecumenical Introduction to the Bible and its Interpretation; Inhabiting the Cruciform God: Kenosis, Justification, and Theosis in Paul's Narrative Soteriology and The Elements of Exegesis
Koorong -Editorial Review.