Reading Scripture as a Political Act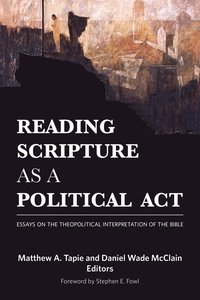 Although scholars increasingly understand Scripture to contain political dimensions and implications, the interpretation of Scripture is often marginalized in most scholarly discussions of political theology. Reading Scripture as a Political Act takes a step toward remedying this situation by exploring some of the ways the church has read Scripture politically. This volume examines the political character of premodern and modern theologians' readings of Scripture with attention to how their readings relate to or address political challenges in their particular social and historical settings. The essays attempt to illuminate the ways that the theological interpretation of Scripture shaped the theopolitical imaginations of Augustine, Bonaventure, John Wesley, Karl Barth, Henri de Lubac, and John Howard Yoder, among others. Several essays in the volume suggest how these models of reading Scripture can inform the contemporary task of reading Scripture in political contexts. The volume covers the earliest Christian centuries to the late modern era, and considers carefully the close coordination between Scripture, theology, and social and political concerns.

- Publisher
You May Also Be Interested In
About "Reading Scripture as a Political Act"
Although scholars increasingly understand Scripture to contain political dimensions and implications, the interpretation of Scripture is often marginalized in most scholarly discussions of political theology. Reading Scripture as a Political Act takes a step toward remedying this situation by exploring some of the ways the church has read Scripture politically. This volume examines the political character of premodern and modern theologians' readings of Scripture with attention to how their readings relate to or address political challenges in their particular social and historical settings. The essays attempt to illuminate the ways that the theological interpretation of Scripture shaped the theopolitical imaginations of Augustine, Bonaventure, John Wesley, Karl Barth, Henri de Lubac, and John Howard Yoder, among others. Several essays in the volume suggest how these models of reading Scripture can inform the contemporary task of reading Scripture in political contexts. The volume covers the earliest Christian centuries to the late modern era, and considers carefully the close coordination between Scripture, theology, and social and political concerns.
- Publisher


Table Of Contents
Foreword - Stephen E. Fowl; Introduction - Matthew A. Tapie And Daniel Wade Mcclain; 1. Empire And Enemies: Rereading Lament As A Political Act - Rebekah Eklund; 2. The Politics Of Friendship In The Gospel Of John - Peter Dula; 3. "before The Eyes Of Their Own God": Susanna, Rape Law, And Testimony In Augustine's City Of God - Melanie Webb; 4. The Politics Of Fasting In Basil Of Caesarea - Mark Delcoinano; 5. Contemplating Genesis 1 As A Political Act In Late Antiquity - Daniel Wade Mcclain; 6. The Apocalyptic Figure Of Francis's Stigmatized Body: The Politics Of Scripture In Bonaventure's Meditative Treatises - Travis E. Ables; 7. "for He Is Our Peace": Thomas Aquinas On Christ As Cause Of Peace In The City Of The Saints - Matthew A. Tapie; 8. War And The Ethics Of Evangelization: The Great Commission In Sixteenth-century Spanish Political Thought - David Lantigua; 9. The Slanted Page: Shakespeare And Biblical Anarchy - Anthony Baker; 10. Lnhabiting Scripture: Wesley's Theopolitical Reading Of The Bible - D. Stephen Long; 11. Ressourcement And Resistance: La Nouvelle Theologie, The Bible, And The Fathers Against Fascism - Kevin L. Hughes; 12. The Political Use Of Scripture In The Barmen Declaration - Susannah Ticciati; 13. The End Of Sacrifice: John Howard Yoder's Critique Of Capital Punishment - John Nugent; 14. A Broken Body Reads Mark - Craig Hovey.