Real Artists Don't Starve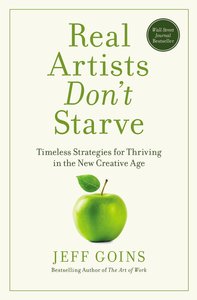 Have you heard it said that creatives should wait for inspiration? How about the one that says it's selling out if an artist strategizes to profit off of their work? Or that a true artist works alone? In Real Artists Don't Starve, author and creativity expert Jeff Goins has set out to replace these false narratives and replace them with timeless strategies for thriving as a creative and debunking the myth of the starving artist.From graphic designers and writers to artists and business professionals, creatives already know that no one is born an artist. Instead, those who have entered a creative field have already utilized the imagination in fundamental ways in order to accomplish what they have thus far. And contrary to popular myth, Goins believes their artistic temperament has actually given them a competitive advantage in the marketplace.Through inspiring anecdotes of successful creatives both past and present, Goins explores the tension every creative person and organization faces in an effort to blend the inspired life with a practical path to success. Being creative isn't a disadvantage for success; rather, it is a powerful tool to be harnessed.

- Publisher
You May Also Be Interested In
About "Real Artists Don't Starve"
Have you heard it said that creatives should wait for inspiration? How about the one that says it's selling out if an artist strategizes to profit off of their work? Or that a true artist works alone? In Real Artists Don't Starve, author and creativity expert Jeff Goins has set out to replace these false narratives and replace them with timeless strategies for thriving as a creative and debunking the myth of the starving artist.From graphic designers and writers to artists and business professionals, creatives already know that no one is born an artist. Instead, those who have entered a creative field have already utilized the imagination in fundamental ways in order to accomplish what they have thus far. And contrary to popular myth, Goins believes their artistic temperament has actually given them a competitive advantage in the marketplace.Through inspiring anecdotes of successful creatives both past and present, Goins explores the tension every creative person and organization faces in an effort to blend the inspired life with a practical path to success. Being creative isn't a disadvantage for success; rather, it is a powerful tool to be harnessed.
- Publisher


Meet the Author
Jeff Goins
JEFF GOINS Originally from Chicago, IL, Jeff graduated from Illinois College with a degree in Spanish and Religion. Immediately after graduating, he spent a year traveling with a music ministry, playing concerts in churches, schools, and prisons for a year. In 2006, he moved to Nashville, where he now lives with his wife and dog. Jeff works for Adventures in Missions, a short-term missions agency. You can visit him online at www.goinswriter.com.