Real Relationships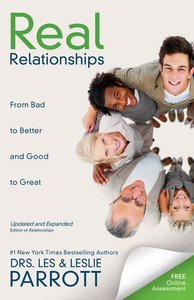 In this updated edition of their bestselling book, Relationships, Drs. Les and Leslie Parrott dig below the surface to the depths of human interactions, offering expert advice and practical tools for improving the most important aspect of human life: relationships. Designed for college students, young adults, singles, and dating couples, this cutting-edge book teaches the basics of healthy relationships, including friendship, dating, sexuality, and relating to God. Newly updated and expanded to include the latest research on relationship building and vital information on social networking, it provides readers with proven tools for making bad relationships better and good relationships great. Real Relationships is filled with thought-provoking questions and links to its separate workbook. The workbook---integral to getting the most out of Real Relationships---contains dozens of self-tests and assessments that will help readers determine their relational readiness, the health of the home they grew up in, their understanding of gender differences, and much more. Real Relationships and the Real Relationships Workbook furnish an honest and timely guide to forming the rich relationships that are life's greatest treasure.

- Publisher
You May Also Be Interested In
About "Real Relationships"
In this updated edition of their bestselling book, Relationships, Drs. Les and Leslie Parrott dig below the surface to the depths of human interactions, offering expert advice and practical tools for improving the most important aspect of human life: relationships. Designed for college students, young adults, singles, and dating couples, this cutting-edge book teaches the basics of healthy relationships, including friendship, dating, sexuality, and relating to God. Newly updated and expanded to include the latest research on relationship building and vital information on social networking, it provides readers with proven tools for making bad relationships better and good relationships great. Real Relationships is filled with thought-provoking questions and links to its separate workbook. The workbook---integral to getting the most out of Real Relationships---contains dozens of self-tests and assessments that will help readers determine their relational readiness, the health of the home they grew up in, their understanding of gender differences, and much more. Real Relationships and the Real Relationships Workbook furnish an honest and timely guide to forming the rich relationships that are life's greatest treasure.
- Publisher


Meet the Authors
Les Parrott
Les Parrott is founder of the Centre for Relationship Development on the campus of Seattle Pacific University and the best-selling author of HIGH-MAINTENANCE RELATIONSHIPS, THE CONTROL FREAK, and LOVE TALK. Dr. Parrott is a sought after speaker to Fortune 500 companies and holds relationship seminars across North America. He also hosts the US national radio broadcast 'Love Talk.' Dr Parrott has been featured in 'USA Today', 'the Wall Street Journal', and 'the New York Times'. His television appearances include CNN, Good Morning America, and Oprah.- Publisher.
Leslie Parrott
Dr. Leslie Parrott is a marriage and family therapist and codirector with her husband, Dr. Les Parrott, of the Center for Relationship Development at Seattle Pacific University. She is the author of God Made You Nose to Toes and The First Drop of Rain, and co-author with her husband of several bestselling books, including The Complete Guide to Marriage Mentoring, Relationships, Love Talk, and the Gold Medallion Award-winner, Saving Your Marriage before It Starts. Leslie is a columnist for Today's Christian Woman and has been featured on Oprah, CBS Morning, CNN, and The View, and in USA Today and the New York Times. www.RealRelationships.com
Koorong -Editorial Review.
Media