Reasons For Belief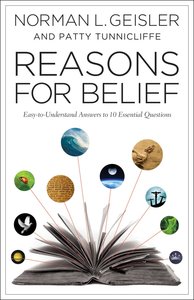 Trusted Theologian Presents a Case for Christian Faith in Easy-to-Understand Language

Seminary professor and bestselling author teams with a seminary-trained apologist and teacher to give readers basic, solid evidence for the Christian faith. This book is ideal for both teens and adults. Lay leaders and teachers as well as students will be equipped to explain the basics of Christianity to unbelievers and new believers. The accessible and topically organized book is easy to understand and use.

- Publisher
You May Also Be Interested In
About "Reasons For Belief"
Trusted Theologian Presents a Case for Christian Faith in Easy-to-Understand Language

Seminary professor and bestselling author teams with a seminary-trained apologist and teacher to give readers basic, solid evidence for the Christian faith. This book is ideal for both teens and adults. Lay leaders and teachers as well as students will be equipped to explain the basics of Christianity to unbelievers and new believers. The accessible and topically organized book is easy to understand and use.
- Publisher


Meet the Authors
Norman L Geisler
Dr. Norman Geisler (Ph.D., Loyola University) is author or co-author of over sixty-eight books and hundreds of articles including Christian Apologetics; Apologetics in the New Age; Answering Islam; When Skeptics Ask; When Critics Ask; The Baker Dictionary of Apologetics; Handbook of Systematic Theology (4 volumes), Chosen But Free and When Cultists Ask. He has taught at the university and graduate level for forty eight years and has spoken or debated in all fifty states and in twenty-five countries. He is the co-founder and long-time Dean of Southern Evangelical Seminary, in Charlotte, North Carolina.
Patty Tunnicliffe
Patty Tunnicliffe (MA, Southern Evangelical Seminary) is a former public school teacher, Bible teacher, and conference speaker. She and her husband make their home in Santa Barbara, California. A