Recruits (#01 in Recruits Series)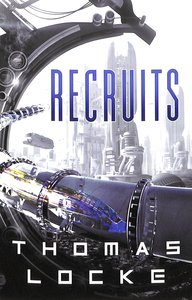 :For more than a decade, twins Sean and Dillon Kirrell have felt pulled toward another world--a place they have sketched out in detail and posted on the walls of their bedroom. They are certain it is out there. Soon after their seventeenth birthday, they are approached by a clandestine scout. To him, Earth is just a distant and unmonitored outpost of human civilization. But he explains that Sean and Dillon share a unique gift--the ability to transfer instantly from place to place. Transitors who are also twins are especially rare, and so they are offered an opportunity to prove themselves as recruits to the human assembly. If they don't succeed within thirty days, their minds will be wiped. Either they make the grade as inter-planetary travelers--or this never happened.

From the infinite imagination of Thomas Locke comes this otherworldly new series that will challenge young readers' understanding of time, space, and human limitations.

- Publisher
You May Also Be Interested In
About "Recruits (#01 in Recruits Series)"
:For more than a decade, twins Sean and Dillon Kirrell have felt pulled toward another world--a place they have sketched out in detail and posted on the walls of their bedroom. They are certain it is out there. Soon after their seventeenth birthday, they are approached by a clandestine scout. To him, Earth is just a distant and unmonitored outpost of human civilization. But he explains that Sean and Dillon share a unique gift--the ability to transfer instantly from place to place. Transitors who are also twins are especially rare, and so they are offered an opportunity to prove themselves as recruits to the human assembly. If they don't succeed within thirty days, their minds will be wiped. Either they make the grade as inter-planetary travelers--or this never happened.

From the infinite imagination of Thomas Locke comes this otherworldly new series that will challenge young readers' understanding of time, space, and human limitations.
- Publisher


Meet the Author
Thomas Locke
Davis Bunn is pseudonym used by T. Davis Bunn. Bunn was born in 1952 in North Carolina. He had a finance career that took him around the globe until his first novel, The Presence, was released in 1990. The book became a national bestseller. He has written under the names of Davis Bunn as well as Thomas Locke and Cameron Wolfe. Bunn is a much sought-after speaker for the art of writing and he serves as a Writer in Residence at Regent's Park College, Oxford University.
Other Titles In The "Recruits Series" Series View All