Red Moon Rising - How 24-7 Prayer is Awakening a Generation (#01 in Red Moon Chronicles Series)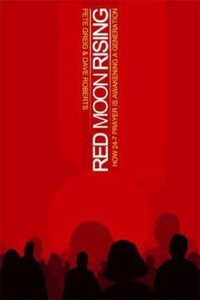 272 Pages

- Publisher 24-7prayer.com has sparked 24-hour prayer rooms in more than 46 countries around the world over the last three years. Red Moon Rising is the story of how people who thought they couldn't pray did. It tells how young people are going to the 'high places' of modern culture to pray and introduce a generation to Jesus. It shows how 365 days a year, prayer rooms are becoming places of refuge, rescue and salvation for broken and needy people. It's the story of God pouring out his Spirit so that the dreamers can dream, the visionaries can see and the lost can be called back to Jesus.

- Publisher In 1999 a single, unsuspecting prayer room in England began to spontaneously multiply, touching 46 nations and millions of lives within a matter of months. Every minute since that moment has been filled with unbroken (24-7) prayer, everywhere from the U S Naval Academy and the slums of Delhi to a Swiss skate park and a German punk festival. This movement of prayer is generating miracles, new monasteries and missions deep into the heart of the postmodern culture. "Red Moon Rising will also look at the history of the church showing that 24-7 prayer is not a new model of prayer but has been deployed by God down through generations.

- Publisher
Also Available In
You May Also Be Interested In
About "Red Moon Rising - How 24-7 Prayer is Awakening a Generation (#01 in Red Moon Chronicles Series)"
272 Pages
- Publisher

24-7prayer.com has sparked 24-hour prayer rooms in more than 46 countries around the world over the last three years. Red Moon Rising is the story of how people who thought they couldn't pray did. It tells how young people are going to the 'high places' of modern culture to pray and introduce a generation to Jesus. It shows how 365 days a year, prayer rooms are becoming places of refuge, rescue and salvation for broken and needy people. It's the story of God pouring out his Spirit so that the dreamers can dream, the visionaries can see and the lost can be called back to Jesus.
- Publisher

In 1999 a single, unsuspecting prayer room in England began to spontaneously multiply, touching 46 nations and millions of lives within a matter of months. Every minute since that moment has been filled with unbroken (24-7) prayer, everywhere from the U S Naval Academy and the slums of Delhi to a Swiss skate park and a German punk festival. This movement of prayer is generating miracles, new monasteries and missions deep into the heart of the postmodern culture. "Red Moon Rising will also look at the history of the church showing that 24-7 prayer is not a new model of prayer but has been deployed by God down through generations.
- Publisher


Meet the Authors
Pete Greig
-->PETE GRIEG--> is an author, church-planter and one of the founding leaders of 24-7prayer, a ministry that has grown unexpectedly from a single night-and-day ?prayer room? into an international, interdenominational Christian community of people committed to prayer, mission and justice. Thanks to an innovative approach to spirituality and culture, 24-7 prayer has captured the attention of newspapers and magazines from Rolling Stone to Readers Digest and has been the subject of an acclaimed British television documentary. Proposed by Relevant magazine as one of the top 50 ?revolutionary leader
Dave Roberts
Dave Roberts is the author of the best-selling The Toronto Blessing and Red Moon Rising with joint sales in excess of 100,000. He is a former editor of Christianity and won awards for his work on Renewal magazine. He is a local church pastor and conference director for three major annual conferences on worship, children's ministry, and women's ministry.
Other Titles In The "Red Moon Chronicles" Series