Redeeming Philosophy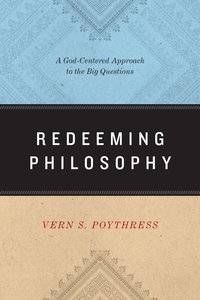 :Who are we? Why are we here? Where do we find meaning? Life is full of big questions, and many philosophers have sought to provide answers. In his latest book, prolific author Vern Poythress uses his formidable intellect to investigate the foundations and limitations of Western philosophy, sketching a distinctly Christian approach to answering basic questions about the nature of humanity, the existence of God, the search for meaning, and the basis for ethics. Written for those engaging with the timeless issues that have perplexed men and women for centuries, this book argues that a biblical worldview offers the most comprehensive framework for answering life's biggest questions.

- Publisher
You May Also Be Interested In
About "Redeeming Philosophy"
:Who are we? Why are we here? Where do we find meaning? Life is full of big questions, and many philosophers have sought to provide answers. In his latest book, prolific author Vern Poythress uses his formidable intellect to investigate the foundations and limitations of Western philosophy, sketching a distinctly Christian approach to answering basic questions about the nature of humanity, the existence of God, the search for meaning, and the basis for ethics. Written for those engaging with the timeless issues that have perplexed men and women for centuries, this book argues that a biblical worldview offers the most comprehensive framework for answering life's biggest questions.
- Publisher


Meet the Author
Vern S Poythress
Dr. Vern S. Poythress (Ph.D., Harvard University; DTh., University of Stellenboch) is professor of New Testament interpretation at Westminster Theological Seminary. In addition to numerous journal articles and essays, he is author of many books including Symphonic Theology; Understanding Dispensationalists; God-Centered Biblical Interpretation; The Returning King; and The Gender-Neutral Bible Controversy.