Rediscovering Jesus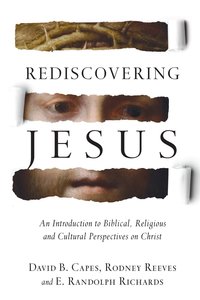 :Who is your Jesus? Matthew's teacher? John's Word made flesh? Hebrews' great high priest? What if it turned out that your Jesus is a composite of your favorite selections from the New Testament buffet, garnished with some Hollywood and Americana? Rediscovering Jesus takes us on a gallery tour of biblical portraits of Jesus, from Matthew through Revelation. Our expert guides point out the background and highlights of each New Testament image of Jesus. Then we hit the streets to visit other houses of worship and their scriptures, examining the Jesus of the Book of Mormon and the Qur'an. Popping into a bookstore, we browse the latest on the Gnostic and the historical Jesus. Then we're off on a walking tour of Jesus in America, followed by a film festival of Jesus movies. All along the way our tour guides describe and interpret, but also raise questions: How is this Jesus different from other portraits? If this were our only portrait of Jesus, what would our faith be like? Rediscovering Jesus is an enjoyable, informative and challenging look at how we encounter Jesus in Scripture and our culture. With ample sidebars exploring contexts and the "so what?" questions, it takes us beyond other surveys by probing how our understanding of Jesus can make a difference for faith and life. From the authors of Rediscovering Paul, this is a textbook introduction to Jesus that guides us in our pilgrimage toward seeing Jesus truly.

- Publisher
You May Also Be Interested In
About "Rediscovering Jesus"
:Who is your Jesus? Matthew's teacher? John's Word made flesh? Hebrews' great high priest? What if it turned out that your Jesus is a composite of your favorite selections from the New Testament buffet, garnished with some Hollywood and Americana? Rediscovering Jesus takes us on a gallery tour of biblical portraits of Jesus, from Matthew through Revelation. Our expert guides point out the background and highlights of each New Testament image of Jesus. Then we hit the streets to visit other houses of worship and their scriptures, examining the Jesus of the Book of Mormon and the Qur'an. Popping into a bookstore, we browse the latest on the Gnostic and the historical Jesus. Then we're off on a walking tour of Jesus in America, followed by a film festival of Jesus movies. All along the way our tour guides describe and interpret, but also raise questions: How is this Jesus different from other portraits? If this were our only portrait of Jesus, what would our faith be like? Rediscovering Jesus is an enjoyable, informative and challenging look at how we encounter Jesus in Scripture and our culture. With ample sidebars exploring contexts and the "so what?" questions, it takes us beyond other surveys by probing how our understanding of Jesus can make a difference for faith and life. From the authors of Rediscovering Paul, this is a textbook introduction to Jesus that guides us in our pilgrimage toward seeing Jesus truly.
- Publisher


Meet the Authors
David B Capes
David B. Capes (Ph.D., Southwestern Baptist Theological Seminary) is professor and chair of the Department of Christianity and Philosophy at Houston Baptist University in Houston, Texas. He has served as pastor of several churches in Texas, and he has participated in a variety of professional organizations, including the Society of Biblical Literature, the Institute for Biblical Research and the National Association of Baptist Professors of Religion. His articles have been published in such journals as Horizons in Biblical Theology, Biblical Illustrator, Journal of the Evangelical Theological Society, Southwestern Journal of Theology, Bulletin for Biblical Research and Perspectives in Religious Studies. He is the author of Old Testament Yahweh Texts in Paul's Christology in the Wissenschaftliche Untersuchungen zum Neuen Testament series.
Rodney Reeves
Rodney Reeves earned his Ph.D. at Southwestern Baptist Theological Seminary and has done postdoctoral study at Oxford University. He is dean of The Courts Redford College of Theology and Ministry and professor of Biblical Studies at Southwest Baptist University, both in Bolivar, Missouri. He served previously as a pastor with churches in Arkansas and Texas. He is the author ofA Genuine Faith: How to Follow Jesus Today. His articles have appeared in journals such as Perspectives in Religious Studies, Biblical Illustrator, Southwestern Journal of Theology and Preaching.
E Randolph Richards
E. Randolph Richards (M.Div. and Ph.D., Southwestern Baptist Theological Seminary) is Dean of the School of Ministry and Professor of Biblical Studies at Palm Beach Atlantic University in West Palm Beach, Florida. He is co-author of Rediscovering Paul: An Introduction to His Life and Work, and The Story of Israel: A Biblical Theology; and author of Paul and First-Century Letter Writing and The Secretary in the Letters of Paul. He has frequently served as an interim pastor, and as a missionary with the International Mission Board, SBC in East Indonesia where he served for eight years as a faculty member and consultant at an Indonesian seminary.
Table Of Contents
:table Of Contentsprefacelist Of Abbreviationsintroduction: "my Jesus"

part I

Introduction: Jesus In The Bible1. Mark's Jesus2. Matthew's Jesus3. Luke's Jesus4. John's Jesus5. Paul's Jesus6. The Priestly Jesus7. The Jesus Of Exiles8. The Apocalyptic Jesus

part Ii

Introduction: Jesus Outside The Bible9. The Gnostic Jesus10. The Muslim Jesus11. The Historical Jesus12. The Mormon Jesus13. The American Jesus14. The Cinematic Jesusconclusion: "our Jesus"subject Indexscripture Index