Reel Spirituality (2nd Edition)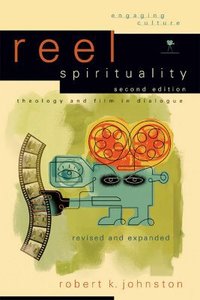 Increasingly, thinking Christians are examining the influential role that movies play in our cultural dialogue. Reel Spirituality successfully heightens readers' sensitivity to the theological truths and statements about the human condition expressed through modern cinema. This second edition cites 200 new movies and encourages readers to ponder movie themes that permeate our culture as well as motion pictures that have demonstrated power to shape our perceptions of everything from relationships and careers to good and evil. Reel Spirituality is the perfect catalyst for dialogue and discipleship among moviegoers, church-based study groups, and religious film and arts groups. The second edition cites an additional 200 movies and includes new film photos.

- Publisher Endorsements of the first edition:"Considering the thousands of films shown every year, and the vast crowds who rush to see them, it is remarkable that so little sustained Christian attention has been paid to the world of the 'big screen.' Films can undoubtedly shape and change our fundamental attitudes and beliefs. Here, at last, is an attempt to take that with theological seriousness. Reel Spiritualitywill not only help us develop a Christian wisdom about film; in turn, it will also make us ask searching questions about the Christian faith and the way we express it. Throughout, the book is accessible and engaging. I commend it most warmly."--Jeremy Begbie, University of St. Andrews; Ridley Hall, University of Cambridge "In opening the windows of his seminary classes, Robert Johnston has quickened and refreshed the conversations between theology and the culture of film. He weaves the stories of the two worlds, church sanctuaries and cinema theaters, into a lively and provocative dialogue that bridges the worlds of Christian truth and visual images. Neither abandoning the flickering shadows of culture nor embracing their seductive illusions, Johnston is first and foremost a storyteller who guides his readers in seeing and understanding film from spiritual perspectives. Walking through the world of films with him offers a glorious unveiling of how the unreal world of film reveals real questions of theology. He is a fascinating host who invites willing pilgrims to hike with him toward the relevance of the Gospel in a fallen culture, and to enjoy the cinematic signs along the way."--Terry Lindvall, professor of film, Regent University "Robert Johnston has written the most comprehensive survey currently available on theology and film. This is a masterful overview both of theologically relevant films and their analysis by other scholars. It is highly accessible, penetrating, fair-minded in the treatment of others, yet full of Johnston's own trenchant insights about films. This authoritative study is a must-read book for anyone interested in the rapidly expanding field of exploring the theological dimensions of contemporary film."--Robert Jewett, author of Saint Paul at the Movies

- Publisher
You May Also Be Interested In
About "Reel Spirituality (2nd Edition)"
Increasingly, thinking Christians are examining the influential role that movies play in our cultural dialogue. Reel Spirituality successfully heightens readers' sensitivity to the theological truths and statements about the human condition expressed through modern cinema. This second edition cites 200 new movies and encourages readers to ponder movie themes that permeate our culture as well as motion pictures that have demonstrated power to shape our perceptions of everything from relationships and careers to good and evil. Reel Spirituality is the perfect catalyst for dialogue and discipleship among moviegoers, church-based study groups, and religious film and arts groups. The second edition cites an additional 200 movies and includes new film photos.
- Publisher

Endorsements of the first edition:"Considering the thousands of films shown every year, and the vast crowds who rush to see them, it is remarkable that so little sustained Christian attention has been paid to the world of the 'big screen.' Films can undoubtedly shape and change our fundamental attitudes and beliefs. Here, at last, is an attempt to take that with theological seriousness. Reel Spiritualitywill not only help us develop a Christian wisdom about film; in turn, it will also make us ask searching questions about the Christian faith and the way we express it. Throughout, the book is accessible and engaging. I commend it most warmly."--Jeremy Begbie, University of St. Andrews; Ridley Hall, University of Cambridge "In opening the windows of his seminary classes, Robert Johnston has quickened and refreshed the conversations between theology and the culture of film. He weaves the stories of the two worlds, church sanctuaries and cinema theaters, into a lively and provocative dialogue that bridges the worlds of Christian truth and visual images. Neither abandoning the flickering shadows of culture nor embracing their seductive illusions, Johnston is first and foremost a storyteller who guides his readers in seeing and understanding film from spiritual perspectives. Walking through the world of films with him offers a glorious unveiling of how the unreal world of film reveals real questions of theology. He is a fascinating host who invites willing pilgrims to hike with him toward the relevance of the Gospel in a fallen culture, and to enjoy the cinematic signs along the way."--Terry Lindvall, professor of film, Regent University "Robert Johnston has written the most comprehensive survey currently available on theology and film. This is a masterful overview both of theologically relevant films and their analysis by other scholars. It is highly accessible, penetrating, fair-minded in the treatment of others, yet full of Johnston's own trenchant insights about films. This authoritative study is a must-read book for anyone interested in the rapidly expanding field of exploring the theological dimensions of contemporary film."--Robert Jewett, author of Saint Paul at the Movies
- Publisher


Meet the Author
Robert K Johnston
Robert K. Johnston is Professor of Theology and Culture at Fuller Theological Seminary. He is the author of "Reel Spirituality: Theology and Film in Dialogue" and "Finding God in the Movies: 33 Films of Reel Faith", and editor of "Reframing Theology & Film: New Focus for an Emerging Discipline".
Table Of Contents
Introduction
1. The Power Of Film
2. A Brief History Of The Church And Hollywood
3. Theological Approaches To Film Criticism
4. Why Look At Film? A Theological Perspective
5. Are Movies Art?
6. In Film, Story Reigns Supreme
7. Image And Music
8. Becoming A Film Critic
9. Responding To Film Ethically: Moving Beyond The Rating System 10. Responding To Movies Theologically
11. An Exercise In Dialogue: The Movies Of Peter Weir