Reflected Love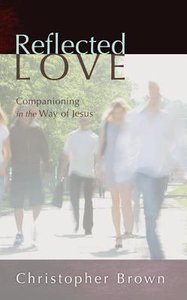 By bringing four contemporary companioning narratives into dialogue with gospel descriptions of Jesus' encounters with people, this book demonstrates how wonderfully diverse interpersonal ministry--pastoral care, counselling, chaplaincy, mentoring, spiritual companioning, and spiritual direction--is active participation in his shepherding, healing, restorative, and guiding purposes. Jesus' invitation, as the true shepherd, master guide, and companion, is to embody and reflect his humble, life-giving, and restorative dynamic. With the essence of his way encapsulated in the words, Come unto me (Matt 11:28-30), and gospel accounts opening to us his person and his interpersonal dynamic, we are invited and gifted to offer to pilgrims profound respect as persons created in the likeness of God; the accompaniment of a gentle and humble heart; welcoming and sacred spaces; relational solidarity; creative and often non-directive entry points into the deeper rhythms and flows of their human experience (noting Jesus' use of metaphor, imagery, enlivened imagination, parable, paradox, wakefulness, and attentiveness to the everyday); and, the prayerful attentiveness that will guide them to find rest for their souls. The encouragement is to get on the road with this master guide-companion and experience his kingdom breaking through, in, and around the lives of pilgrims and their companions.

- Publisher
You May Also Be Interested In
About "Reflected Love"
By bringing four contemporary companioning narratives into dialogue with gospel descriptions of Jesus' encounters with people, this book demonstrates how wonderfully diverse interpersonal ministry--pastoral care, counselling, chaplaincy, mentoring, spiritual companioning, and spiritual direction--is active participation in his shepherding, healing, restorative, and guiding purposes. Jesus' invitation, as the true shepherd, master guide, and companion, is to embody and reflect his humble, life-giving, and restorative dynamic. With the essence of his way encapsulated in the words, Come unto me (Matt 11:28-30), and gospel accounts opening to us his person and his interpersonal dynamic, we are invited and gifted to offer to pilgrims profound respect as persons created in the likeness of God; the accompaniment of a gentle and humble heart; welcoming and sacred spaces; relational solidarity; creative and often non-directive entry points into the deeper rhythms and flows of their human experience (noting Jesus' use of metaphor, imagery, enlivened imagination, parable, paradox, wakefulness, and attentiveness to the everyday); and, the prayerful attentiveness that will guide them to find rest for their souls. The encouragement is to get on the road with this master guide-companion and experience his kingdom breaking through, in, and around the lives of pilgrims and their companions.
- Publisher


Meet the Author
Christopher Brown
Christopher Brown has an academic background in Psychology, Social Work and Social Policy. He taught social work at the University of Queensland for over twenty-five years, and spiritual companioning at Christian Heritage College for twelve years. He has undergone formation as a spiritual director, offers spiritual direction, and is now involved in the formation of spiritual directors.

Christopher and his wife Marilyn have spent sabbatical time with the Church of the Saviour in Washington DC and at the Reba Place Church in Evanston, USA. They also spent seven years with a Brisbane inner-city Christian network, the "Waiter's Union", which sought to establish longer term friendships with people on the edge of society.

Christopher and Marilyn live in Brisbane, Australia. They have three children and eight grandchildren. As evangelicals they attend their local Baptist church, and are also involved with a group of friends who are exploring ways to support the church and deepen a life of faith, prayer and action that is committed to Jesus' Sermon on the Mount.

Christopher is also involved in a small writer's group, which has been labelled by one editor as the "Holy Scribblers". This writing focuses on different aspects of Christian Spirituality. Christopher's second book, Guiding Gideon: Awakening to Life and Faith, is about spiritual companioning and deeper formation in Christian faith.