Reforesting Faith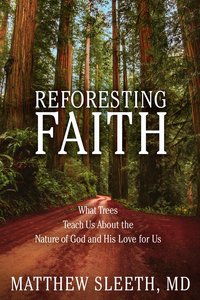 The Bible talks about trees more than any living creation other than people. Perhaps you've missed the forest...and the trees.

In this groundbreaking walk through Scripture, former physician and carpenter Dr. Matthew Sleeth makes the convincing case why trees are essential to every Christian's understanding of God.

Yet we've mostly missed how God has chosen to tell His story--and ours--through the lens of trees. There's a tree on the first page of Genesis and the last page of Revelation. The Bible refers to its wisdom as a Tree of Life (Proverbs 3:18). Every major Biblical character has a tree associated with them. Jesus himself says he is the true vine (John 15:1). A tree was used to kill Jesus--and a tree is the only thing the Messiah ever harmed.

This is no accident. When we subtract trees from Scripture, we miss lessons of faith necessary for our growth.

This is the rare book that connects those who love the Creator with creation, and those who love creation with the Creator. It offers inspirational yet practical ways to express our love for God--and our neighbors--by planting spiritual trees and physical trees in the world.

Join Dr. Sleeth as he navigates the Bible's trail of trees to explore the wonders of life, death, and rebirth. You'll be amazed at how science is just beginning to catch up to the truths described in Scripture thousands of years ago. Once you discover the hidden language of trees, your walk through the woods--and through Scripture--will never be the same.

- Publisher
You May Also Be Interested In
About "Reforesting Faith"
The Bible talks about trees more than any living creation other than people. Perhaps you've missed the forest...and the trees.

In this groundbreaking walk through Scripture, former physician and carpenter Dr. Matthew Sleeth makes the convincing case why trees are essential to every Christian's understanding of God.

Yet we've mostly missed how God has chosen to tell His story--and ours--through the lens of trees. There's a tree on the first page of Genesis and the last page of Revelation. The Bible refers to its wisdom as a Tree of Life (Proverbs 3:18). Every major Biblical character has a tree associated with them. Jesus himself says he is the true vine (John 15:1). A tree was used to kill Jesus--and a tree is the only thing the Messiah ever harmed.

This is no accident. When we subtract trees from Scripture, we miss lessons of faith necessary for our growth.

This is the rare book that connects those who love the Creator with creation, and those who love creation with the Creator. It offers inspirational yet practical ways to express our love for God--and our neighbors--by planting spiritual trees and physical trees in the world.

Join Dr. Sleeth as he navigates the Bible's trail of trees to explore the wonders of life, death, and rebirth. You'll be amazed at how science is just beginning to catch up to the truths described in Scripture thousands of years ago. Once you discover the hidden language of trees, your walk through the woods--and through Scripture--will never be the same.
- Publisher


Meet the Author
Matthew Sleeth
Matthew Sleeth, MD, is the author of Serve God, Save the Planet and a former emergency room director and chief of medical staff. He practices what he preaches; after simplifying his life and cutting his energy use by more than two-thirds, he now writes, preaches and teaches full time about faith and the environment. Together with his wife, Nancy, and their two children, he helps lead the growing creation care movement. Sleeth is a graduate of The George Washington School of Medicine. The Sleeths live in Kentucky. To learn more, visit www.blessedearth.org.