Reframe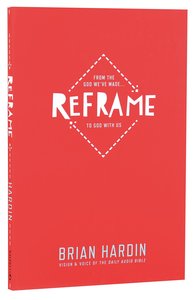 :Accomplished recording producer Brian Hardin experienced a mediocre Christian faith until one day, he purposed to read the Bible daily. His resolve led to the start of the Daily Audio Bible, which after eight years has had more than 55 million downloads and feeds hundreds of thousands of listeners each day.

In the process of reading the Bible to his growing audience every day without fail, he has made a true, real friend in Jesus. Not a ?Hey God, I know You're up there somewhere? type of relationship, but one that contains the emotions, dialogue, and intimate moments that we long for from our closest of comrades. Brian found it necessary to entirely reframe his perception of God into a relationship as real as any experienced here on earth.

Reframe challenges you to change your paradigm about your relationship and connection with God, because in truth, you are engineered so that life will not work without Him. Reframe invites you to reconsider life and what it might look like if you were ruined for anything else but a life-giving connection to the almighty God.

- Publisher
Other Formats
About "Reframe"
:Accomplished recording producer Brian Hardin experienced a mediocre Christian faith until one day, he purposed to read the Bible daily. His resolve led to the start of the Daily Audio Bible, which after eight years has had more than 55 million downloads and feeds hundreds of thousands of listeners each day.

In the process of reading the Bible to his growing audience every day without fail, he has made a true, real friend in Jesus. Not a ?Hey God, I know You're up there somewhere? type of relationship, but one that contains the emotions, dialogue, and intimate moments that we long for from our closest of comrades. Brian found it necessary to entirely reframe his perception of God into a relationship as real as any experienced here on earth.

Reframe challenges you to change your paradigm about your relationship and connection with God, because in truth, you are engineered so that life will not work without Him. Reframe invites you to reconsider life and what it might look like if you were ruined for anything else but a life-giving connection to the almighty God.
- Publisher


Meet the Author
Brian Hardin
Brian Hardin is a speaker, photographer, record producer and an ordained minister. In 2006, he created the Daily Audio Bible, an online podcast that now delivers 1.5 million downloads a month. He has produced over 150 albums and works with artists and the arts extensively. He is married to Christian musician Jill Parr.
Customer Reviews For "Reframe"
Write Your Own Review
Highly recommended book for your journey with God
By Lifes Good Journey,

Oct 03 2015
Brian Hardin writes a terrific book explaining how important it is to be in a relationship with God. It's so nice to hear that God wants to be in a relationship with us. Brian says, "We exchange knowledge about Him for a relationship with Him." We need to get beyond this, and move into a better relationship. Reframe shows us that just because we read a lot of information about God, hear a lot of testimony and opinions of others about God, visit God for an hour at church every Sunday, does not mean we are in a relationship with God. 

"We look to God to get us out of trouble and wonder why He allows us to get into it in the first place without owning our own actions - a complete misjudgment." (Brian Hardin - Reframe)

I do this all the time! I pray, "Dear God, please help me to get out of trouble." God didn't get me into trouble, that's totally my doing. Reframe shows us that by inviting God into our lives every day, all day, we'll be able to get into the kind of relationship God wants us to have with Him. 

Reframe will go through the process to rethink, reframe and restart. You'll need to start by looking inside yourself, and be ready to change.  Whether your journey with God has been a smooth and easy road, or you feel that your journey takes you on rocky cliffs and you can barely hang on, this book is for you. 

{{review.title}}
By {{review.author.name}},

{{review.reviewCreatedDate | date:'MMM dd yyyy'}}

{{reviewdescription}}
{{review.text}}
---