Reframing Theology Anf Film (Cultural Exegesis Series)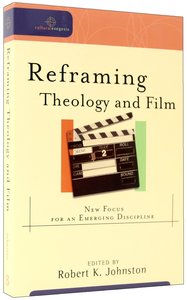 The connection between theology and film is a hot topic in the academy and the church. But research and writing on methodology and hermeneutics is lacking. This comprehensive collection identifies the overlooked or undervalued areas in the current discussions of film and theology. Including contributions from the leaders in the field, Reframing Theology and Film helps deepen the conversation while bringing it to a new level of prominence. Professors and students of theology and film, libraries, pastors, and film buffs will benefit from this much-needed resource.

- Publisher The study of theology and film is fewer than three decades old. What, then, does the future hold for this evolving subject? In "Reframing Theology and Film," Robert Johnston has drawn together more than a dozen scholars who regularly write and teach on the topic; their contributions explore how the discipline of theology and film can flourish and mature. The book also emphasizes the overlooked and undervalued aspects of theology and film. Contributors include: Craig Detweiler Barry Taylor Gaye Williams Ortiz Sara Anson Vaux Gordon Lynch Terry Lindvall Clive Marsh Rebecca Ver Straten-McSparran Catherine M. Barsotti John Lyden Mitch Avila Christopher Deacy Rose Pacatte, FSP Gerard Loughlin Robert K. Johnston - ?Here is a fine collection of essays full of rich detail, engaging insights, and provocative suggestions. The impressive cast of authors points beyond many of the usual frames of study, offering original perspectives and new approaches. Without exception, the chapters make a valuable contribution to ongoing dynamic conversations. This is a ?'must-read - ? for anyone with an interest in film and theology. - ? - ?Jolyon Mitchell, senior lecturer, Edinburgh University; author of "Media Violence and Christian Ethics" and coeditor of "The Religion and Film Reader" - ?In this single volume, the field of theology and film has matured from infancy to adulthood. Robert Johnston has assembled a top-notch group of scholars to set the stage for emerging directions in the field. No future writing on the topic can ignore the categories reframed by the contributors here. - ? ?'S. Brent Plate, editor of "Representing Religion in World Cinema" and coeditor of "TheReligion and Film Reader"

- Publisher
You May Also Be Interested In
About "Reframing Theology Anf Film (Cultural Exegesis Series)"
The connection between theology and film is a hot topic in the academy and the church. But research and writing on methodology and hermeneutics is lacking. This comprehensive collection identifies the overlooked or undervalued areas in the current discussions of film and theology. Including contributions from the leaders in the field, Reframing Theology and Film helps deepen the conversation while bringing it to a new level of prominence. Professors and students of theology and film, libraries, pastors, and film buffs will benefit from this much-needed resource.
- Publisher

The study of theology and film is fewer than three decades old. What, then, does the future hold for this evolving subject? In "Reframing Theology and Film," Robert Johnston has drawn together more than a dozen scholars who regularly write and teach on the topic; their contributions explore how the discipline of theology and film can flourish and mature. The book also emphasizes the overlooked and undervalued aspects of theology and film. Contributors include: Craig Detweiler Barry Taylor Gaye Williams Ortiz Sara Anson Vaux Gordon Lynch Terry Lindvall Clive Marsh Rebecca Ver Straten-McSparran Catherine M. Barsotti John Lyden Mitch Avila Christopher Deacy Rose Pacatte, FSP Gerard Loughlin Robert K. Johnston - ?Here is a fine collection of essays full of rich detail, engaging insights, and provocative suggestions. The impressive cast of authors points beyond many of the usual frames of study, offering original perspectives and new approaches. Without exception, the chapters make a valuable contribution to ongoing dynamic conversations. This is a ?'must-read - ? for anyone with an interest in film and theology. - ? - ?Jolyon Mitchell, senior lecturer, Edinburgh University; author of "Media Violence and Christian Ethics" and coeditor of "The Religion and Film Reader" - ?In this single volume, the field of theology and film has matured from infancy to adulthood. Robert Johnston has assembled a top-notch group of scholars to set the stage for emerging directions in the field. No future writing on the topic can ignore the categories reframed by the contributors here. - ? ?'S. Brent Plate, editor of "Representing Religion in World Cinema" and coeditor of "TheReligion and Film Reader"
- Publisher


Meet the Author
Robert K Johnston (Ed)
Robert K. Johnston is Professor of Theology and Culture at Fuller Theological Seminary. He is the author of "Reel Spirituality: Theology and Film in Dialogue" and "Finding God in the Movies: 33 Films of Reel Faith", and editor of "Reframing Theology & Film: New Focus for an Emerging Discipline".
Table Of Contents
Acknowledgments
notes On The Contributors
introduction: Revisioning The Discipline (robert K. Johnston)
section 1: Moving Beyond A "literary" Paradigm
1. Seeing And Believing: Film Theory As A Window Into A Visual Faith (craig Detweiler)
2. The Color Of Sound: Music And Meaning Making In Film (barry Taylor)
section 2: Broadening Our Film Selection
3. World Cinema: Opportunities For Dialogue With Religion And Theology (gaye Williams Ortiz)
4. Letters On Better Movies (sara Anson Vaux)
section 3: Extending Our Conversation Partners
5. Film And The Subjective Turn: How The Sociology Of Religion Can Contribute To Theological Readings Of Film (gordon Lynch)
6. Hollywood Chronicles: Toward An Intersection Of Church History And Film History (terry Lindvall)
section 4: Engaging The Viewer
7. On Dealing With What Films Actually Do To People: The Practice And Theory Of Film Watching In Theology/religion And Film Discussion (clive Marsh)
8. Polanyi's Personal Knowledge And Watching Movies (rebecca Ver Straten-mcsparran)
9. Películas--¿through Whose Lenses? Going To The Movies With Latinas In La (catherine M. Barsotti)
section 5: Reconsidering The Normative
10. Theology And Film: Interreligious Dialogue And Theology (john Lyden)
11. From Film Emotion To Normative Criticism (mitch Avila)
12. From Bultmann To Burton, Demythologizing The Big Fish: The Contribution Of Modern Christian Theologians To The Theology-film Conversation (christopher Deacy)
section 6: Making Use Of Our Theological Traditions
13. Shaping Morals, Shifting Views: Have The Rating Systems Influenced How (christian) America Sees Movies? (rose Pacatte, Fsp)
14. Within The Image: Film As Icon (gerard Loughlin)
15. Transformative Viewing: Penetrating The Story's Surface (robert K. Johnston)
Other Titles In The "Cultural Exegesis" Series View All