Relaxing With God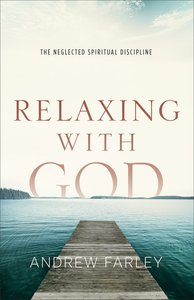 Jesus called his followers to exchange the heavy yoke around their necks for his light one. So why are so many Christians feeling weighed down and burned out? The simple answer is that they are being told from many pulpits across the country what they "should be" doing for God.

Bestselling author Andrew Farley calls this for what it is--works-based religion--and then shares with readers biblical wisdom on the neglected art of resting in Christ. Anyone longing to experience true release from the crushing expectations that the world throws their way will find life and rest in Farley's revolutionary message.

- Publisher
You May Also Be Interested In
About "Relaxing With God"
Jesus called his followers to exchange the heavy yoke around their necks for his light one. So why are so many Christians feeling weighed down and burned out? The simple answer is that they are being told from many pulpits across the country what they "should be" doing for God.

Bestselling author Andrew Farley calls this for what it is--works-based religion--and then shares with readers biblical wisdom on the neglected art of resting in Christ. Anyone longing to experience true release from the crushing expectations that the world throws their way will find life and rest in Farley's revolutionary message.
- Publisher


Meet the Author
Andrew Farley
Andrew Farley (Ph.D., University of Illinois at Urbana-Champaign) is lead pastor of Ecclesia, a growing evangelical church located on the high plains of west Texas. He was formerly a professor at University of Notre Dame. He co-hosts Real Life in Christ, a television program that airs on ABC-TV in the West Texas and New Mexico area. He is a tenured professor of Applied Linguistics at Texas Tech University, and lives in Lubbock, Texas with his wife Katharine and their son Gavin. He has authored books in linguistics and theology most recently The Naked Gospel: The Truth You May Never Hear in Church and God without Religion: Can It Really Be This Simple?
-Editorial Review.