Releasing the Power of the Prophetic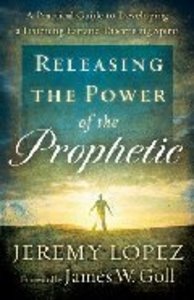 The Lord Yearns to Speak to All His Children All believers have access to God's gift of prophecy, yet this is one of the most confusing and misunderstood topics in the Church. Questions such as Who can prophesy? and How do I receive a word? stop believers from stepping out in the adventure of faith that comes from hearing and speaking God's words. In this down-to-earth, accessible guide, international prophetic leader Jeremy Lopez shows you how to exercise God's gift of prophecy. He lays the biblical foundation for prophecy and offers insight and answers for understanding all things prophetic, showing you how to " tune in to God's voice " know the difference between a right and wrong word " develop and mature your prophetic gifting " give and receive words from the Lord " and more! This is the essential handbook for all who long to move in the power of the prophetic. "Jeremy Lopez is one of the next-generation prophetic voices that God clearly has His hand on. You will receive grounded teaching and inspiring prophetic activity."--James W. Goll, founder, Encounters Network "Jeremy carries a dynamic word, is extremely accurate in his prophetic ministry and is a true refreshment to those whose lives he touches."--Patricia King, XPmedia.com

- Publisher International Leader Helps Christians Understand and Develop Their Prophetic Gifting

Prophecy is as old as the Bible. Yet many don't understand--or even recognize--when and how it happens today. Having taught and ministered prophetically around the world, Jeremy Lopez has seen this need firsthand, and he's written this book to clear away the confusion.

In this down-to-earth, accessible guide, he lays the biblical foundation for prophecy, showing readers
• why prophecy is still important today
• that every Christian has access to God's gift of prophecy
• how believers can be assured they are hearing from God
• how they can develop their prophetic gifting

Clear and concise, this handbook is essential reading for all who have had--or long for--a brush with the prophetic.

- Publisher
You May Also Be Interested In
About "Releasing the Power of the Prophetic"
The Lord Yearns to Speak to All His Children All believers have access to God's gift of prophecy, yet this is one of the most confusing and misunderstood topics in the Church. Questions such as Who can prophesy? and How do I receive a word? stop believers from stepping out in the adventure of faith that comes from hearing and speaking God's words. In this down-to-earth, accessible guide, international prophetic leader Jeremy Lopez shows you how to exercise God's gift of prophecy. He lays the biblical foundation for prophecy and offers insight and answers for understanding all things prophetic, showing you how to " tune in to God's voice " know the difference between a right and wrong word " develop and mature your prophetic gifting " give and receive words from the Lord " and more! This is the essential handbook for all who long to move in the power of the prophetic. "Jeremy Lopez is one of the next-generation prophetic voices that God clearly has His hand on. You will receive grounded teaching and inspiring prophetic activity."--James W. Goll, founder, Encounters Network "Jeremy carries a dynamic word, is extremely accurate in his prophetic ministry and is a true refreshment to those whose lives he touches."--Patricia King, XPmedia.com
- Publisher

International Leader Helps Christians Understand and Develop Their Prophetic Gifting

Prophecy is as old as the Bible. Yet many don't understand--or even recognize--when and how it happens today. Having taught and ministered prophetically around the world, Jeremy Lopez has seen this need firsthand, and he's written this book to clear away the confusion.

In this down-to-earth, accessible guide, he lays the biblical foundation for prophecy, showing readers
• why prophecy is still important today
• that every Christian has access to God's gift of prophecy
• how believers can be assured they are hearing from God
• how they can develop their prophetic gifting

Clear and concise, this handbook is essential reading for all who have had--or long for--a brush with the prophetic.
- Publisher


Meet the Author
Jeremy Lopez
Dr. Jeremy Lopez is founder of www.identitynetwork.net. Identity Network is an apostolic and prophetic resource website with over 153,000 subscribers. He is an international prophet and motivational speaker with a revelatory knowledge of Scripture, universal laws, mysteries, patterns, and cycles. He serves on many governing boards and holds a Doctorate of Divinity.