Releasing the Prophetic Destiny of a Nation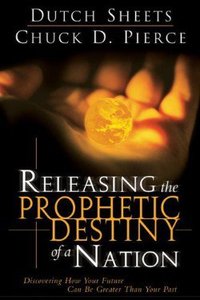 At the same moment, God issued a separate call to two men---prophet Chuck Pierce and pastor Dutch Sheets---to heal the United States. As a prophetic act to realign our country to His covenant plan, the duo rallied apostles, prophets and intercessors from state-to-state to break the grip of demonic strongholds. Releasing the Prophetic Destiny of a Nation is the remarkable story behind their 50-state roadtrip to restore revival to America. Endowed with God-given keys of authority to reconcile America to its heavenly mandate, the two chronicle their efforts to purge the land of territorial and generational sin. Now is the time and season for a warfare anointing to rest upon America.

- Publisher Sheets and Pierce believe they hold the "God-given keys" for unlocking America's destiny---and they intend to use them! Learn how these two leaders traveled cross-country rallying apostles, prophets, intercessors, and entire churches to purge the U.S.A. of territorial and generational sin, declaring war against principalities and powers entrenched in every state.

- Publisher
You May Also Be Interested In
About "Releasing the Prophetic Destiny of a Nation"
At the same moment, God issued a separate call to two men---prophet Chuck Pierce and pastor Dutch Sheets---to heal the United States. As a prophetic act to realign our country to His covenant plan, the duo rallied apostles, prophets and intercessors from state-to-state to break the grip of demonic strongholds. Releasing the Prophetic Destiny of a Nation is the remarkable story behind their 50-state roadtrip to restore revival to America. Endowed with God-given keys of authority to reconcile America to its heavenly mandate, the two chronicle their efforts to purge the land of territorial and generational sin. Now is the time and season for a warfare anointing to rest upon America.
- Publisher

Sheets and Pierce believe they hold the "God-given keys" for unlocking America's destiny---and they intend to use them! Learn how these two leaders traveled cross-country rallying apostles, prophets, intercessors, and entire churches to purge the U.S.A. of territorial and generational sin, declaring war against principalities and powers entrenched in every state.
- Publisher


Meet the Authors
Chuck D Pierce
Chuck D. Pierce is president of Glory of Zion International Ministries and vice president of Global Harvest Ministries. He is the former director of the World Prayer Centre and co-author of the books The Worship Warrior and Restoring Your Shield of Faith. Chuck, his wife, Pam, and their three children live in Denton, Texas. - Publisher.
Dutch Sheets
Dutch Sheets is the Senior Pastor of Springs Harvest Fellowship in Colorado Springs, Colorado. He has served on the faculty of Christ for the Nations Institute, and now serves as an instructor for Destiny Bible School and is a guest lecturer for Wagner Leadership Institute. He serves on many ministry boards and is a best selling author with books including Intercessory Prayer, Watchman Prayer and How to Pray for Lost Loved Ones among others. He travels across America and other nations challenging believers for passionate prayer and world-changing revival. Dutch and his wife, Ceci, and their daughters, Sarah and Hannah, make their home in Colorado Springs. - Publisher.