Religious Affections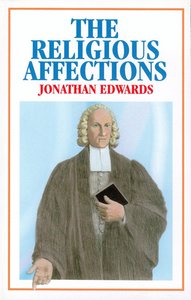 In the wake of the Toronto Blessing and other revival movements, Christians need this book more than ever. Edwards, the central figure in New England's first Great Awakening, offers his most detailed description of the signs--false and true--of religious revival, while high-lighting the role truly balanced emotions play within the Christian life.

- Publisher Jonathan Edwards is best known as the theologian of revival. In this, his major study on the theme, he analyses the nature of a genuine work of the Holy Spirit.

- Publisher
You May Also Be Interested In
About "Religious Affections"
In the wake of the Toronto Blessing and other revival movements, Christians need this book more than ever. Edwards, the central figure in New England's first Great Awakening, offers his most detailed description of the signs--false and true--of religious revival, while high-lighting the role truly balanced emotions play within the Christian life.
- Publisher

Jonathan Edwards is best known as the theologian of revival. In this, his major study on the theme, he analyses the nature of a genuine work of the Holy Spirit.
- Publisher


Meet the Author
Jonathan Edwards
Jonathan Edwards (1703-1758) is widely acknowledged to be America's most important and original philosophical theologians. He is known as one of the greatest and most profound of American theologians and revivalists. He was the foremost leader of the Great Awakening in North America in the 18th Century. His writings continue to have a marked influence today on the life of the Church, his example stands as a beacon to guide us from the shallows of our low levels of spirituality to the deeper waters of life. Jonathan Edwards wrote such classics as Sinner in the Hands of an Angry God, Sermons of Jonathan Edwards and Call to United, Extraordinary Prayer.- Publisher.