Remember and Return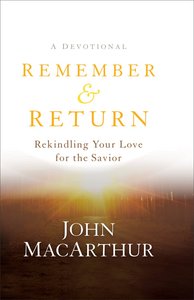 31-Day Devotional from Bestselling Author and Bible Teacher John MacArthur

In the busyness and trials of life, it's easy to drift away from the Savior. We may continue to go to church and even read the Scriptures and pray, but we can still lose our first love. Christ commended the church in Ephesus for their works and for their intolerance of false doctrine yet admonished them to remember and return to their first love--him. In the same way, our outward religiosity can mask an inner lack of love for our Savior.

In this 31-day devotional, John MacArthur takes readers down a biblically prescribed path as they rediscover who Christ is, what he has done, and how they must respond. Each entry will move readers from understanding to application to reflection and prayer, with a goal of rekindling their first love for Christ. Makes a thoughtful gift for any believer.

- Publisher
You May Also Be Interested In
About "Remember and Return"
31-Day Devotional from Bestselling Author and Bible Teacher John MacArthur

In the busyness and trials of life, it's easy to drift away from the Savior. We may continue to go to church and even read the Scriptures and pray, but we can still lose our first love. Christ commended the church in Ephesus for their works and for their intolerance of false doctrine yet admonished them to remember and return to their first love--him. In the same way, our outward religiosity can mask an inner lack of love for our Savior.

In this 31-day devotional, John MacArthur takes readers down a biblically prescribed path as they rediscover who Christ is, what he has done, and how they must respond. Each entry will move readers from understanding to application to reflection and prayer, with a goal of rekindling their first love for Christ. Makes a thoughtful gift for any believer.
- Publisher


Meet the Author
John Macarthur
John MacArthur, the author of numerous best selling books that have touched millions of lives, is pastor-teacher of Grace Community Church in Sun Valley, California and president of The Master's College and Seminary. He is also president of Grace to You, the ministry that produces the international radio program Grace to You and a host of print, audio, and Internet resources. He authored the notes in the Gold Medallion Award-winning The MacArthur Study Bible. John and his wife, Patricia, have four children who have given them thirteen grandchildren.- Publisher.