Repenting of Religion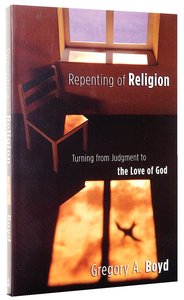 We human beings are burdened by our tendencies to harshly judge others and ourselves. Unfortunately for believers, this bent is as prevalent in the church as in the world.

Pastor and author Gregory A. Boyd calls readers to a higher standard through understanding the true manner in which God views humanity: as infinitely worthwhile and lovable. Only an attitude shift in how we perceive ourselves in light of God's love can impact how we relate to people and transform our judgmental nature.

Believers wrestling with the reality of God's love and Christians struggling with judging in the local church will appreciate this examination of how we move from a self-centred to a Christ-centred life.


- Publisher Freedom from judgmentalism.Are you frustrated by a tendency to judge others? Pastor and award-winning author Greg Boyd asserts that God shares his unsurpassable worth with each of us, making the practice of judgment foreign to Christian character.In Repenting of Religion, Boyd shows you how to begin practicing a religion of love rather than embracing judgmental doctrine based on our human perceptions of morality. He exposes lies we have believed about ourselves and others and demonstrates the freedom we have for establishing true biblical community.If you're ready to reap the rewards of loving others, this book is for you."Anything but another run-of-the-mill evangelical book, it is radical and revolutionary. It will make readers think critically about some traditional evangelical habits of the heart."--Roger E. Olson, George W. Truett Theological Seminary, Baylor University"The local church is called to be God's community of redemption rather than the exclusive clique of rejection it has often become. This is a prophetic call to repentance."--Gilbert Bilezikian, author of Christianity 101"Mere Christianity is religionless, Boyd rightly says. It is about dancing with the triune God. And, since it's all about mercy, let's love one another and stop judging."--Clark Pinnock, author of Most Moved MoverGregory A. Boyd is senior pastor of Woodland Hills Church in St. Paul, Minnesota. He is the author of twelve books, including Seeing is Believing and the best-selling Gold Medallion Award winner Letters from a Skeptic.

- Publisher
You May Also Be Interested In
About "Repenting of Religion"
We human beings are burdened by our tendencies to harshly judge others and ourselves. Unfortunately for believers, this bent is as prevalent in the church as in the world.

Pastor and author Gregory A. Boyd calls readers to a higher standard through understanding the true manner in which God views humanity: as infinitely worthwhile and lovable. Only an attitude shift in how we perceive ourselves in light of God's love can impact how we relate to people and transform our judgmental nature.

Believers wrestling with the reality of God's love and Christians struggling with judging in the local church will appreciate this examination of how we move from a self-centred to a Christ-centred life.

- Publisher

Freedom from judgmentalism.Are you frustrated by a tendency to judge others? Pastor and award-winning author Greg Boyd asserts that God shares his unsurpassable worth with each of us, making the practice of judgment foreign to Christian character.In Repenting of Religion, Boyd shows you how to begin practicing a religion of love rather than embracing judgmental doctrine based on our human perceptions of morality. He exposes lies we have believed about ourselves and others and demonstrates the freedom we have for establishing true biblical community.If you're ready to reap the rewards of loving others, this book is for you."Anything but another run-of-the-mill evangelical book, it is radical and revolutionary. It will make readers think critically about some traditional evangelical habits of the heart."--Roger E. Olson, George W. Truett Theological Seminary, Baylor University"The local church is called to be God's community of redemption rather than the exclusive clique of rejection it has often become. This is a prophetic call to repentance."--Gilbert Bilezikian, author of Christianity 101"Mere Christianity is religionless, Boyd rightly says. It is about dancing with the triune God. And, since it's all about mercy, let's love one another and stop judging."--Clark Pinnock, author of Most Moved MoverGregory A. Boyd is senior pastor of Woodland Hills Church in St. Paul, Minnesota. He is the author of twelve books, including Seeing is Believing and the best-selling Gold Medallion Award winner Letters from a Skeptic.
- Publisher


Meet the Author
Gregory A Boyd
Gregory A. Boyd (Ph.D., Princeton Theological Seminary) is a pastor at Woodland Hills Church in St. Paul, Minnesota. Previously, he was a professor of theology at Bethel College, also in St. Paul. His books include Cynic, Sage or Son of God?, Recovering the Real Jesus in an Age of Revisionist Replies, Letters from a Skeptic, God of the Possible, Repenting of Religion, Seeing is Believing, Escaping the Matrix, Is God to Blame?, and God at War and Satan and the Problem of Evil.

Koorong -Editorial Review.