Rescue and Redeem (#5 in History Lives Series)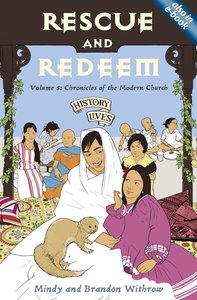 Let History come to life- Just the way it should do. As the modern world exploded with rapid changes- in transportation, in communication, in manufacturing- people around the globe faced overwhelming new challenges. As Christians arrived for the first time in other countries, hey realized that being a Christian was about living out the gospel in every culture. And they realized that great injustice was everywhere So they met the challenges of modern life with new ways of communicating Christ's ancient gospel. From Niijima Jo and Pandita Ramabai to Dietrich Bonhoeffer and Janani Luwum, they set out to rescue God's global people and redeem them to new life in Christ. Read the stories of the Japanese samurai who traded his sword for a Bible and the Hawaiian princess whose faith strengthened her to defend her nation. Discover the German and Ugandan pastors who stoof up to murderous dictators. Get to know the teacher in India who rescued child widows and the writer in Britain who created a

- Publisher
You May Also Be Interested In
About "Rescue and Redeem (#5 in History Lives Series)"
Let History come to life- Just the way it should do. As the modern world exploded with rapid changes- in transportation, in communication, in manufacturing- people around the globe faced overwhelming new challenges. As Christians arrived for the first time in other countries, hey realized that being a Christian was about living out the gospel in every culture. And they realized that great injustice was everywhere So they met the challenges of modern life with new ways of communicating Christ's ancient gospel. From Niijima Jo and Pandita Ramabai to Dietrich Bonhoeffer and Janani Luwum, they set out to rescue God's global people and redeem them to new life in Christ. Read the stories of the Japanese samurai who traded his sword for a Bible and the Hawaiian princess whose faith strengthened her to defend her nation. Discover the German and Ugandan pastors who stoof up to murderous dictators. Get to know the teacher in India who rescued child widows and the writer in Britain who created a
- Publisher


Meet the Authors
Brandon Withrow
Mindy & Brandon Withrow are from Northwood Ohio and write and teach about history, theology and literature.
Mindy Withrow
Brandon and Mindy Withrow write and teach about history, theology and literature. They live in Northwood, Ohio.
Other Titles In The "History Lives Series" Series View All