Rescued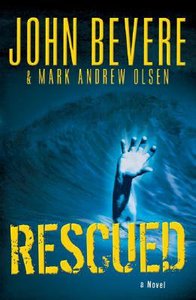 A trapped father. A desperate son. A clock ticking down toward certain death--and a fate even more horrifying still... A gripping thriller that already has moved and changed thousands of readers with its themes of life and death, earthly issues vs. eternal values. Now an affordable paperback for those who want to buy copies for family and friends. The dramatized CD of Rescued features professional actors such as John Rhys-Davies for narration and dialogue, and the novel is made even more compelling with sound effects and engaging music. Four CDs for a total of 2 hours' listening experience. Affabel dramatizes the powerful other-world story woven into Bevere's nonfiction work, Driven By Eternity. John Rhys-Davies (Lord of the Rings and One Night With the King) brings to life King Jalyn in this dramatic performance on 4 CDs/2: 30 hours. Attractive packaging will market well to your customers.

- Publisher EDGE-OF-YOUR-SEAT SUSPENSE...AND SOMETHING MORE...!A father trapped in a terrible underwater accident. A son desperate to do something--anything--to save him. A digital read-out ticking down toward certain death--and a fate more horrible still...For Alan Rockaway, his teenaged son Jeff, and Alan's new bride, Jenny, it's been little more than a fascinating tourist submarine excursion, a leisurely end to a weeklong church-couples' cruise. Then the horrifying crash and the plunge toward the unknown....Everything Alan has assumed about himself, about what awaits him in the future, is flipped upside down.In the ultimate rescue operation, life or death is just the beginning!

- Publisher
Other Formats
About "Rescued"
A trapped father. A desperate son. A clock ticking down toward certain death--and a fate even more horrifying still... A gripping thriller that already has moved and changed thousands of readers with its themes of life and death, earthly issues vs. eternal values. Now an affordable paperback for those who want to buy copies for family and friends. The dramatized CD of Rescued features professional actors such as John Rhys-Davies for narration and dialogue, and the novel is made even more compelling with sound effects and engaging music. Four CDs for a total of 2 hours' listening experience. Affabel dramatizes the powerful other-world story woven into Bevere's nonfiction work, Driven By Eternity. John Rhys-Davies (Lord of the Rings and One Night With the King) brings to life King Jalyn in this dramatic performance on 4 CDs/2: 30 hours. Attractive packaging will market well to your customers.
- Publisher

EDGE-OF-YOUR-SEAT SUSPENSE...AND SOMETHING MORE...!A father trapped in a terrible underwater accident. A son desperate to do something--anything--to save him. A digital read-out ticking down toward certain death--and a fate more horrible still...For Alan Rockaway, his teenaged son Jeff, and Alan's new bride, Jenny, it's been little more than a fascinating tourist submarine excursion, a leisurely end to a weeklong church-couples' cruise. Then the horrifying crash and the plunge toward the unknown....Everything Alan has assumed about himself, about what awaits him in the future, is flipped upside down.In the ultimate rescue operation, life or death is just the beginning!
- Publisher


Meet the Authors
John Bevere


John Bevere is known internationally for his boldness and passion, he delivers life-transforming Christian truth through his award-winning curriculums and bestselling books. He has been a ministry leader for more than 25 years, is a popular international speaker and the co-host of the television program "The Messenger," broadcast worldwide. He is also a frequent guest on Christian shows such as Joyce Meyer's "Enjoying Everyday Life," CBN's "700 Club," "LIFE Today with James and Betty Robison," Daystar's "Celebration" and "Joni" programs.

He is the author of 15 books, five of which are bestsellers, and his books are available in more than 60 languages. He is best-known as the author of The Bait of Satan, which has sold more than one million copies, Drawing Near, which was the recipient of Christian Retailing Magazine's 2005 Retailers Choice Award, and Driven by Eternity. His Drawing Near curriculum won a Telly Award in 2005. In 2007, Bevere was the recipient of a Communicator Award of Excellence for the curriculum for Driven by Eternity, awarded by the International Academy of Visual Arts.

Converted to Christianity as a student at Purdue University, he received a Bachelor of Science degree in Mechanical Engineering, but went on to pursue his passion and call to spread the Gospel. He attended Bible school in Texas and then served as an associate to the senior pastor at two local churches there and in Florida where he was trained and equipped for ministry.

In 1990, John and his wife Lisa, also a best-selling author and speaker, founded Messenger International in Orlando, Florida, relocating to Colorado Springs in 2001. The ministry has grown into a multi-faceted international outreach with offices in the United Kingdom and Australia.

John and Lisa live in Colorado Springs and have four sons, a daughter-in-law and a grandson.
- Extraordinaryonline
Mark Andrew Olsen
Mark Andrew Olsen, whose novel The Assignment was a Christy Award finalist, also collaborated on bestsellers Hadassah and The Hadassah Covenant. The son of missionaries to France, Mark is a graduate of Baylor University. He and his wife, Connie, live in Colorado Springs with their three children.
Customer Reviews For "Rescued"
Write Your Own Review
worth the read, i would say
By Indi ,

Feb 06 2013
John Bevere.  I have read a number of his books, and seen numerous DVDs. I absolutely love his teaching and writing style, he is easy to understand, gets right down to the very heart of issues, yet keeps it fully applicable to everyday life.  I have not personally read this book, but did listen to the audio cd, that is based on this. The cd was interesting and kept you there till the end, it was more of a story, rather than much of his other teaching, which was not like that. The cd was something that some may enjoy, while others may not. But it did make you think about life

It is an end times thing. I would say it would be well worth reading considering the author.

---
A book every Christian should read!
By Wendy Dunn,

Apr 12 2007
RESCUED - the latest novel by John Bevere and Mark Andrew Olsen - is a voice crying in the wilderness, 'Prepare ye the way of the Lord'. Its challenging story brings to life the reality of heaven and hell.

The novel begins in heaven and then flashes back to the lives of a church fellowship on holiday aboard a luxury cruise ship. After a dreadful accident in Barbados, Alan Rockaway - the pastor of Summit Chapel in Denver, USA - and his companions are thrown into the reality of facing death. Where will they end up? They are all believers, or are they? 

This question becomes vital as they face the great King, the maker of heaven and earth, who as well as the God of love and grace, is also the righteous judge who sees the intent of all hearts and the way we live our lives. 

RESCUED would have to be one of the most important books I have read. Even though we are saved by grace, this book reminded me that we will have to one day give an account for all our actions. It convicted me of the need to continually reassess the motives of my heart, and whether I am following in Jesus? footsteps in all I do, think and say.

After finishing RESCUED, I was prompted to read another John Bevere book, DRIVEN BY ETERNITY, which discusses the same themes but in much more detail.

I believe RESCUED is a book that every Christian should read, as it is life changing. I also recommend following up by reading DRIVEN BY ETERNITY.


{{review.title}}
By {{review.author.name}},

{{review.reviewCreatedDate | date:'MMM dd yyyy'}}

{{reviewdescription}}
{{review.text}}
---