Restoring All Things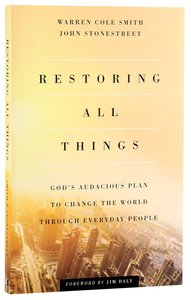 :It's easy to get discouraged by the headlines. It can often feel as if God has left the building, like we are on our own. We want to believe God's promises to us, and we search for signs of his continuing restoration of the world in which we live. Now, with passion and heart, two leading experts on Christianity and culture cut through the chaos and uncertainty to show readers how God is powerfully active and intensely engaged in fulfilling his promise to restore all things unto himself. Through inspiring real-life stories of justice, mercy, love, and forgiveness in our midst, Smith and Stonestreet present a God who is intimately involved in his creation and using his church to work out the redemption of this world.

- Publisher
You May Also Be Interested In
About "Restoring All Things"
:It's easy to get discouraged by the headlines. It can often feel as if God has left the building, like we are on our own. We want to believe God's promises to us, and we search for signs of his continuing restoration of the world in which we live. Now, with passion and heart, two leading experts on Christianity and culture cut through the chaos and uncertainty to show readers how God is powerfully active and intensely engaged in fulfilling his promise to restore all things unto himself. Through inspiring real-life stories of justice, mercy, love, and forgiveness in our midst, Smith and Stonestreet present a God who is intimately involved in his creation and using his church to work out the redemption of this world.
- Publisher


Meet the Authors
Warren Cole Smith
Warren Cole Smith is a writer, editor and publisher of the Evangelical Press News Service. He has written more than 1000 articles for a wide range of print and on-line publications, including WORLD Magazine, the Dallas Morning News, BeliefNet.com, Sports Afield, Alaska Magazine. As a commentator and observer of modern religious life he has been quoted by the New York Times, CBS News and many others. He lives in Charlotte with his wife and four children.
John Stonestreet
JOHN STONESTREET is a speaker and fellow of the Chuck Colson Center for Christian Worldview, as well as the co-host with Eric Metaxas of Breakpoint, the Christian worldview radio program founded by the late Chuck Colson. John is a sought-after speaker at conferences, colleges and churches on areas of faith and culture, theology and apologetics. He holds degrees from Trinity Evangelical Divinity School and Bryan College and is the co-author of Making Sense of Your World: A Biblical Worldview.