Return to Me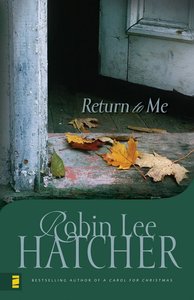 When Roxy Burke left home for Nashville, she swore she wouldn't come back until she was a star. But it's desperation that drives this prodigal back to her family, and no one is prepared for what happens next.Roxy has crashed and burned. She's squandered an inheritance, lived a wild life, and wasted her talent. Desperate and ashamed, she now must return to her father and sister, neither of whom she's talked to in seven years.Roxy's father welcomes his daughter with love and tenderness. But his easy acceptance is hard on Roxy's sister. After years of being the dutiful daughter, Elena feels resentment and anger toward her wayward sister.Even more problematic is the reaction of Roxy's former boyfriend. Once a rebel, Wyatt has given his life to Christ and plans to enter the ministry. He and Elena are engaged, but Roxy's return raises questions that could mean the end of Elena's perfect future.The Burke family faces the return of the prodigal and must reach out for healing. Will they each be able to accept God's grace?

- Publisher
You May Also Be Interested In
About "Return to Me"
When Roxy Burke left home for Nashville, she swore she wouldn't come back until she was a star. But it's desperation that drives this prodigal back to her family, and no one is prepared for what happens next.Roxy has crashed and burned. She's squandered an inheritance, lived a wild life, and wasted her talent. Desperate and ashamed, she now must return to her father and sister, neither of whom she's talked to in seven years.Roxy's father welcomes his daughter with love and tenderness. But his easy acceptance is hard on Roxy's sister. After years of being the dutiful daughter, Elena feels resentment and anger toward her wayward sister.Even more problematic is the reaction of Roxy's former boyfriend. Once a rebel, Wyatt has given his life to Christ and plans to enter the ministry. He and Elena are engaged, but Roxy's return raises questions that could mean the end of Elena's perfect future.The Burke family faces the return of the prodigal and must reach out for healing. Will they each be able to accept God's grace?
- Publisher


Meet the Author
Robin Lee Hatcher
Best-selling author Robin Lee Hatcher was born in 1951 and has written over 45 contemporary and historical novels. She has received numerous awards including the Christy Award for Excellence in Christian Fiction, the RITA Award for Best Inspirational Romance, and RWA's Lifetime Achievement Award. Her novel Catching Katie was named one of the Best Books of 2004 by the Library Journal. She is also the past President of Romance Writers of America, Inc. She currently lives in Boise, Idaho.
Customer Reviews For "Return to Me"
Write Your Own Review
The Prodigal Daughter!
By Narelle Mollet,

May 21 2007
Roxy Burke, leaves her hometown for the country music capital of the world, Nashville, Tennessee, with the talent and financial resources to make it big. Seven years on, Roxy is a burned out shell of a women who failed to invest in her music or make friends wisely and she has no choice but to return to her father and plead for his forgiveness.

Just as Roxy is making the decision to return home, her sister Elena's dreams are coming true, newly engaged, treasured by her father as a daughter and valued partner in the family business. Elena's peace is shattered when her beloved sister returns and Elena fears she will soak up all their father's love and win back her former boyfriend, Elena's fiancee, Wyatt Baldini.

Robin Lee Hatcher's beautiful writing reintroduces the reader to this wonderful story of redemption. Roxy is an interesting character whose journey is not simplified as her struggles continue even after she returns home to her father's welcoming arms. However, the highlight for me is Elena's story. I have always felt sympathy for the devoted older son in the Biblical story so Elena's reality is what impacted me most. Her insecurities regarding her sister's charismatic personality and penchant for getting more than she deserved war with her deep love for Roxy and her innate desire to protect her little sister. Return to Me gives the reader a renewed appreciation of God's love for us. 
{{review.title}}
By {{review.author.name}},

{{review.reviewCreatedDate | date:'MMM dd yyyy'}}

{{reviewdescription}}
{{review.text}}
---