Revealing the Spirit of God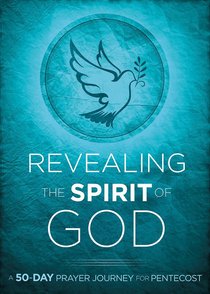 :
This Pentecost set your heart on fire for the supernatural and miraculous empowerment of God's Spirit
Based on the words and teachings of great classic men and women of God such as Maria Woodworth Etter, William Seymour, John G. Lake, Smith Wigglesworth, and others, Revealing the Spirit of God is a fifty-day guided prayer journey to the most significant event in all of human history since the resurrection of Jesus Christ-the coming of the Holy Spirit. A powerful prayer and fasting resource, Revealing the Spirit of God is specially customized for those who want to be revived and filled afresh with the power and manifest presence of God. Each day's readings include:

• A key Scripture verse for each day
• Inspirational reading from one of the classic charismatic leaders
• Points to ponder/contemplate to help ignite heartfelt prayer and deeper surrender
• A suggested prayer

- Publisher
You May Also Be Interested In
About "Revealing the Spirit of God"
:
This Pentecost set your heart on fire for the supernatural and miraculous empowerment of God's Spirit
Based on the words and teachings of great classic men and women of God such as Maria Woodworth Etter, William Seymour, John G. Lake, Smith Wigglesworth, and others, Revealing the Spirit of God is a fifty-day guided prayer journey to the most significant event in all of human history since the resurrection of Jesus Christ-the coming of the Holy Spirit. A powerful prayer and fasting resource, Revealing the Spirit of God is specially customized for those who want to be revived and filled afresh with the power and manifest presence of God. Each day's readings include:

• A key Scripture verse for each day
• Inspirational reading from one of the classic charismatic leaders
• Points to ponder/contemplate to help ignite heartfelt prayer and deeper surrender
• A suggested prayer

- Publisher