Revelation and the End Times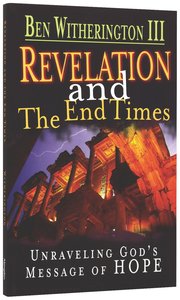 The Bible contains passages of great beauty and comfort and some that may strike you as bizarre, bewildering, or even frightening. The Book of Revelation is filled with this rich and perplexing symbolism, yet its message is one of hope for all Christians. Revelation and the End Times unravels God's message for our time. With his rich knowledge of and provocative insights into the New Testament, Ben Witherington will guide you into a deeper understanding of the truths found within Revelation's often mysterious text, so that you can feel more secure in your faith.


- Publisher A trustworthy guide to the rich and perplexing symbolism of the Book of Revelation.

- Publisher
You May Also Be Interested In
About "Revelation and the End Times"
The Bible contains passages of great beauty and comfort and some that may strike you as bizarre, bewildering, or even frightening. The Book of Revelation is filled with this rich and perplexing symbolism, yet its message is one of hope for all Christians. Revelation and the End Times unravels God's message for our time. With his rich knowledge of and provocative insights into the New Testament, Ben Witherington will guide you into a deeper understanding of the truths found within Revelation's often mysterious text, so that you can feel more secure in your faith.

- Publisher

A trustworthy guide to the rich and perplexing symbolism of the Book of Revelation.
- Publisher


Meet the Author
Ben Witherington
Ben Witherington III (Ph.D., University of Durham, England) is Amos Professor of New Testament for Doctoral Studies at Asbury Theological Seminary in Wilmore, Kentucky, and is on the doctoral faculty at the University of St. Andrews in Scotland
He is the author of many books on the New Testament, including Women and the Genesis of Christianity (Cambridge University Press); Jesus the Sage (Fortress Press); The Jesus Quest (InterVarsity Press) and The Paul Quest (InterVarsity Press). With Hershel Shanks he is coauthor of The Brother of Jesus (HarperSanFrancisco), a book on the controversial James ossuary. A frequent contributor to Beliefnet.com, Witherington has also appeared on numerous TV news programs such as Dateline, 60 Minutes, 20/20 and the Peter Jennings ABC special Jesus and Paul--The Word and the Witness.
Dr Witherington has written a commentary on every book of the New Testament in a wide variety of series.