Revelation (Niv Application Commentary Series)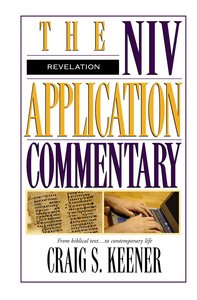 What are the implications of the symbolism in the book of Revelation - the seven seals, the seven thunders, the seven trumpets, the seven woes, and other vivid images - for Christians today? How are such things to be understood? This commentary draws fresh insight and practical application for living our faith today. 576 pages, from Zondervan

- Publisher Revelation, which is part of the NIV Application Commentary Series, helps readers learn how the message of Revelation can have the same powerful impact today that it did when it was first written.

- Publisher Most Bible commentaries take us on a one-way trip from our world to the world of the Bible. But they leave us there, assuming that we can somehow make the return journey on our own. In other words, they focus on the original meaning of the passage but don't discuss its contemporary application. The information they offer is valuable -- but the job is only half done! The NIV Application Commentary Series helps us with both halves of the interpretive task. This new and unique series shows readers how to bring an ancient message into a modern context. It explains not only what the Bible meant but also how it can speak powerfully today.

- Publisher
You May Also Be Interested In
This item is in the following kit
About "Revelation (Niv Application Commentary Series)"
What are the implications of the symbolism in the book of Revelation - the seven seals, the seven thunders, the seven trumpets, the seven woes, and other vivid images - for Christians today? How are such things to be understood? This commentary draws fresh insight and practical application for living our faith today. 576 pages, from Zondervan
- Publisher

Revelation, which is part of the NIV Application Commentary Series, helps readers learn how the message of Revelation can have the same powerful impact today that it did when it was first written.
- Publisher

Most Bible commentaries take us on a one-way trip from our world to the world of the Bible. But they leave us there, assuming that we can somehow make the return journey on our own. In other words, they focus on the original meaning of the passage but don't discuss its contemporary application. The information they offer is valuable -- but the job is only half done! The NIV Application Commentary Series helps us with both halves of the interpretive task. This new and unique series shows readers how to bring an ancient message into a modern context. It explains not only what the Bible meant but also how it can speak powerfully today.
- Publisher


Meet the Author
Craig S Keener
Craig S. Keener (Ph.D., Duke University) is Professor of New Testament at Palmer Theological Seminary, Eastern University. He is also the author of many books, including commentaries on Matthew; John; Revelation (New International Version Application Commentary); The Spirit in the Gospels and Acts: Divine Purity and Power; Paul, Women, and Wives: Marriage and Womens Ministry in the Letters of Paul and And Marries Another: Divorce and Remarriage in the Teaching of the New Testament.
Koorong -Editorial Review.
Other Titles In The "Niv Application Commentary" Series View All