Revise Us Again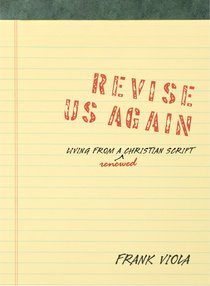 Revise Us Again calls us to revisit and return to God?s original script for living.
Also Available In
You May Also Be Interested In
About "Revise Us Again"
Revise Us Again calls us to revisit and return to God?s original script for living.
- Koorong


Every person follows a script for living, a life guide that directs our behavior and shapes our choices. As believers, we find the original script for living woven throughout the Bible. Yet while the Christian message is simple, it can become complicated by our environment, our culture, and our religious ideas and traditions. For this reason, we are all in constant need of revising the scripts by which we live.
Author Frank Viola believes we need to revisit and revise what it means to live the Christian life. Drawing from his rich background in ministry, Viola examines ten key areas that impact every believer and explores fresh ways to revise them. Conversational, insightful, and practical, Revise Us Again encourages us to examine those religious habits that we unconsciously pick up from others and rescript them with new habits that line up with our new nature in Christ.
- Publisher
Meet the Author
Frank Viola
Frank Viola is an influential voice in the contemporary house church movement. For the last twenty years, he has been gathering with organic house churches in the United States. Frank has written eight revolutionary books on radical church restoration, including Gods Ultimate Passion, Rethinking the Wineskin, Who is Your Covering?, Pagan Christianity, Gathering in Homes and The Untold Story of the New Testament Church. He is a recognised expert on new trends for the church, holds conferences on the deeper Christian life, and is actively engaged in planting New Testament-styled churches. His Web site, frankviola.com, contains many free resources designed to enrich the spiritual lives of Gods people. Frank and his family live in Gainesville, Florida.