Revival Culture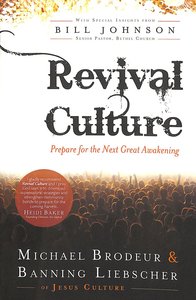 :We all want revival. We talk about it, pray for it, and devise every evangelism strategy imaginable. We read about the Great Awakening and recall the Jesus Movement. And today we stand at the precipice of another sweeping spiritual outbreak that could reach the ends of the earth. But are we ready? Revival Culture is an inspirational, biblical, and empowering manual for the next generation of revivalists. Michael Brodeur and Banning Liebscher have been witnessing a spiritual renewal at Bethel Church in Redding, California, and through Jesus Culture, that goes beyond slogans and high hopes to actually reaching. They have learned that transformation happens when we see the unreached as Jesus sees them and when we make revival a part of our lives rather than an event. This is the full picture of revival culture.

- Publisher
You May Also Be Interested In
About "Revival Culture"
:We all want revival. We talk about it, pray for it, and devise every evangelism strategy imaginable. We read about the Great Awakening and recall the Jesus Movement. And today we stand at the precipice of another sweeping spiritual outbreak that could reach the ends of the earth. But are we ready? Revival Culture is an inspirational, biblical, and empowering manual for the next generation of revivalists. Michael Brodeur and Banning Liebscher have been witnessing a spiritual renewal at Bethel Church in Redding, California, and through Jesus Culture, that goes beyond slogans and high hopes to actually reaching. They have learned that transformation happens when we see the unreached as Jesus sees them and when we make revival a part of our lives rather than an event. This is the full picture of revival culture.
- Publisher


Meet the Authors
Michael Brodeur
Michael Brodeur came to Christ in San Francisco during the Jesus People movement and spent the next 33 years in ministry in the city. He served as district overseer for the Association of Vineyard Churches in the Bay Area and founded the Advanced Institute of Ministry. He now serves as director of development for Jesus Culture and as overseer of the Leader Development Continuum at Bethel Church, in Redding, California. He and his wife, Diane, have seven children.
Banning Liebscher
Banning Liebscher was on staff at Bethel Church for eighteen years, and founded the ministry Jesus Culture during that time. As the Jesus Culture conferences grew, Banning and his family relocated to start a Jesus Culture church to continue to equip revivalists and reformers.