Rewriting Your Broken Story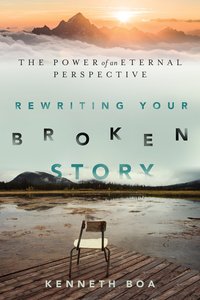 :How do you fix a broken story?In this fallen world, life is not how we thought it would be. Jobs vanish, relationships crumble, health fails. How do we find the hope to persevere?We can make sense of our broken stories by setting them in the context of a larger and greater story. Kenneth Boa shows how God can transform our lives with an eternal perspective, when we live with the end in mind. In light of eternity, our struggles are temporary and our plot twists are not fatal. We are hard-wired by God with eternity in our hearts, and that longing gives us purpose, blesses others and helps us make a permanent mark on the world.Knowing our future is crucial to living our present. When we set our stories within his great story, we learn to live with a heavenly perspective and follow it all the way home.

- Publisher
You May Also Be Interested In
About "Rewriting Your Broken Story"
:How do you fix a broken story?In this fallen world, life is not how we thought it would be. Jobs vanish, relationships crumble, health fails. How do we find the hope to persevere?We can make sense of our broken stories by setting them in the context of a larger and greater story. Kenneth Boa shows how God can transform our lives with an eternal perspective, when we live with the end in mind. In light of eternity, our struggles are temporary and our plot twists are not fatal. We are hard-wired by God with eternity in our hearts, and that longing gives us purpose, blesses others and helps us make a permanent mark on the world.Knowing our future is crucial to living our present. When we set our stories within his great story, we learn to live with a heavenly perspective and follow it all the way home.
- Publisher


Meet the Author
Kenneth D Boa
Kenneth D. Boa (Ph.D., New York University; D.Phil., University of Oxford in England) is engaged in a ministry of relational evangelism and discipleship, teaching, writing, and speaking.
Dr. Boa is the President of Reflections Ministries, an organization that seeks to encourage, teach, and equip people to know Christ, follow Him, become progressively conformed to His image, and reproduce His life in others. He is also President of Trinity House Publishers, a publishing company that is dedicated to the creation of tools that will help people manifest eternal values in a temporal arena by drawing them to intimacy with God and a better understanding of the culture in which they live.
Recent publications by Dr. Boa include Conformed to His Image; 20 Compelling Evidences that God Exists; Face to Face; Augustine to Freud; Faith Has its Reasons; and God, I Dont Understand. He is a contributing editor to The Open Bible and the consulting editor of the Zondervan NASB Study Bible.
Table Of Contents
:1. Your Broken Story2. Investing In Eternity3. The Reversible Paradigm4. Defining Life Backwards5. Trusting Eternity Or Cursing Time6. Poets, Saints And Heroes7. Inside Out, Upside Down And Talking To Ourselves8. Flight Plans, False Goals And A Life Uncommon9. Out Of The Woods And Into The Light10. What Do You Seek? (your Heart's Intention)11. Becoming A Permanent Marker12. From Theology To Doxologyepiloguenotesabout The Author