Riley Mae and the Ready Eddy Rapids (Faithgirlz! Good News Shoes Series)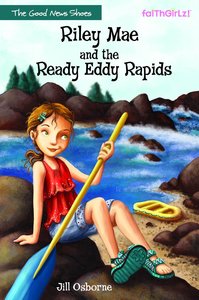 $

9.99

$

7.99
You Save: $2.00 (20%)
Paperback
Life's a rapid, go against the flow. Life is rapidly changing for pre-teen shoe spokesperson Riley Mae Hart. First she and her family are victims of an attack atop the top of Half-Dome in Yosemite, and they have to hideout in a rugged mountain town. Next comes a plane malfunction, then a friend asks Riley for help with her mom, and the rigorous raft training for the 'Ready Eddy' river sandal campaign brings more bumps and bruises. Riley thinks life can't get any worse. But then she meets Sunday, a 10 year-old boy from Kenya, who wrestles fish, battles bears, and tackles leukemia. Then there's Riley soon learns that life is as unpredictable as the raging waters, which, if she is not careful, will sweep her away and into the hands of the enemy---who is even closer than she thinks. Common Core Standards: CCSS.ELA-Literacy.RL.6.1 Cite textual evidence to support analysis of what the text says explicitly as well as inferences drawn from the text. CCSS.ELA-Literacy.RL.6.2 Determine a theme or central idea of a text and how it is conveyed through particular details; provide a summary of the text distinct from personal opinions or judgments. CCSS.ELA-Literacy.RL.6.3 Describe how a particular story's or drama's plot unfolds in a series of episodes as well as how the characters respond or change as the plot moves toward a resolution.

- Publisher
You May Also Be Interested In
About "Riley Mae and the Ready Eddy Rapids (Faithgirlz! Good News Shoes Series)"
Life's a rapid, go against the flow. Life is rapidly changing for pre-teen shoe spokesperson Riley Mae Hart. First she and her family are victims of an attack atop the top of Half-Dome in Yosemite, and they have to hideout in a rugged mountain town. Next comes a plane malfunction, then a friend asks Riley for help with her mom, and the rigorous raft training for the 'Ready Eddy' river sandal campaign brings more bumps and bruises. Riley thinks life can't get any worse. But then she meets Sunday, a 10 year-old boy from Kenya, who wrestles fish, battles bears, and tackles leukemia. Then there's Riley soon learns that life is as unpredictable as the raging waters, which, if she is not careful, will sweep her away and into the hands of the enemy---who is even closer than she thinks. Common Core Standards: CCSS.ELA-Literacy.RL.6.1 Cite textual evidence to support analysis of what the text says explicitly as well as inferences drawn from the text. CCSS.ELA-Literacy.RL.6.2 Determine a theme or central idea of a text and how it is conveyed through particular details; provide a summary of the text distinct from personal opinions or judgments. CCSS.ELA-Literacy.RL.6.3 Describe how a particular story's or drama's plot unfolds in a series of episodes as well as how the characters respond or change as the plot moves toward a resolution.
- Publisher


Meet the Author
Jill Osborne
Jill Osborne works in children's ministry and has a passion for telling great stories. She has written plays, skits for youth groups and Sunday morning drama teams, curriculum for children's ministry, countless articles for her church newsletter, and a blog about taking a sabbatical in a motor home. Good News Shoes is her first series for kids, and she plans to run with it!
Other Titles In The "Faithgirlz! Good News Shoes Series" Series