Riley Mae and the Sole Fire Safari (Faithgirlz! Good News Shoes Series)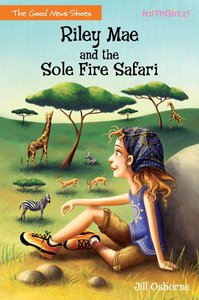 $

9.99

$

7.99
You Save: $2.00 (20%)
Paperback
Train your feet: Ignite your soul. Pre-teen shoe model Riley Mae laces up her flaming orange Sole Fire running shoes for another ad campaign in the third book of the Faithgirlz! Good News Shoes series.Kenya,Africais the perfect place for runners to train, with its high elevation and encouragement from members of the famous Kalenjin tribe. It's also a great hiding place for Riley and her Swiftriver friends from enemies back in theUnited States, but for how long? Adjusting to African culture is difficult, but by doing work she's not accustomed to and by spending time with the kids and the Christian women in the village, Riley finds herself growing stronger physically, and praying expectantly for ways that God can use her to spread the Good News. Her prayers are answered in exciting and startling ways when Riley meets an orphaned girl seeking answers at a children's home inNairobi, but also when an error in judgment causes her to stumble into a surprise meeting with the enemy.

- Publisher
You May Also Be Interested In
About "Riley Mae and the Sole Fire Safari (Faithgirlz! Good News Shoes Series)"
Train your feet: Ignite your soul. Pre-teen shoe model Riley Mae laces up her flaming orange Sole Fire running shoes for another ad campaign in the third book of the Faithgirlz! Good News Shoes series.Kenya,Africais the perfect place for runners to train, with its high elevation and encouragement from members of the famous Kalenjin tribe. It's also a great hiding place for Riley and her Swiftriver friends from enemies back in theUnited States, but for how long? Adjusting to African culture is difficult, but by doing work she's not accustomed to and by spending time with the kids and the Christian women in the village, Riley finds herself growing stronger physically, and praying expectantly for ways that God can use her to spread the Good News. Her prayers are answered in exciting and startling ways when Riley meets an orphaned girl seeking answers at a children's home inNairobi, but also when an error in judgment causes her to stumble into a surprise meeting with the enemy.
- Publisher


Meet the Author
Jill Osborne
Jill Osborne works in children's ministry and has a passion for telling great stories. She has written plays, skits for youth groups and Sunday morning drama teams, curriculum for children's ministry, countless articles for her church newsletter, and a blog about taking a sabbatical in a motor home. Good News Shoes is her first series for kids, and she plans to run with it!
Other Titles In The "Faithgirlz! Good News Shoes Series" Series