Ripple Effect (#01 in Time Thriller Trilogy Series)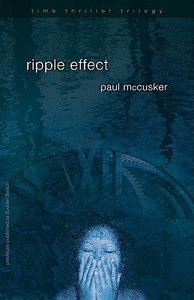 The Time Thriller Trilogy delivers gripping, fast-paced mystery that intrigues and captivates through hours, seconds, and centuries. A long history of strange disappearances and unexplainable occurrences leave clues that the town of Fawlt Line may actually sit on a time fault--- a portal to alternate times and unexpected time travels--- a twist of fate that puts all of Fawlt Line's citizens in serious danger. Will they find the faith to hold on to the town and time where they belong? After Elizabeth falls through a mysterious time warp, will she ever make it back home? Elizabeth stayed home to take a bath and plan on how she could escape her parents by running away. But after she almost drowns when the bathtub fills with muddy water, she emerges to find that her world, and everyone in it, has changed. Elizabeth has dropped into another girl's existence---a questionable life full of untrustworthy relationships and secrets that threaten her life. Is she dreaming or is she an amnesiac as everyone suspects? Will she find the faith to uncover the truth and make her way back to her own reality? Previously published as Sudden Switch.

- Publisher
You May Also Be Interested In
About "Ripple Effect (#01 in Time Thriller Trilogy Series)"
The Time Thriller Trilogy delivers gripping, fast-paced mystery that intrigues and captivates through hours, seconds, and centuries. A long history of strange disappearances and unexplainable occurrences leave clues that the town of Fawlt Line may actually sit on a time fault--- a portal to alternate times and unexpected time travels--- a twist of fate that puts all of Fawlt Line's citizens in serious danger. Will they find the faith to hold on to the town and time where they belong? After Elizabeth falls through a mysterious time warp, will she ever make it back home? Elizabeth stayed home to take a bath and plan on how she could escape her parents by running away. But after she almost drowns when the bathtub fills with muddy water, she emerges to find that her world, and everyone in it, has changed. Elizabeth has dropped into another girl's existence---a questionable life full of untrustworthy relationships and secrets that threaten her life. Is she dreaming or is she an amnesiac as everyone suspects? Will she find the faith to uncover the truth and make her way back to her own reality? Previously published as Sudden Switch.
- Publisher


Meet the Author
Paul Mccusker
Paul McCusker is the creative content director for Focus on the Family. He has been a writer of fiction, nonfiction, and drama since 1979. His work includes over forty published novels, full-length plays, dramatic sketch collections, and song lyrics.
For the Adventures in Odyssey series alone, he has written over 200 half-hour radio episodes, eighteen novels, and two screenplays for the best-selling animated videos.
He has dramatized many classics for Focus on the Family Radio Theatre, including A Christmas Carol and Jan Karon's At Home in Mitford. He also wrote and directed the Peabody Award–winning Bonhoeffer: The Cost of Freedom and created the highly acclaimed Father Gilbert Mysteries series.
The novellas Epiphany and The Faded Flower, and more plus non-fiction, and co-authored You Say Tomato with best-selling British writer Adrian Plass. Epiphany was nominated for the ECPA Gold Medallion Award
Paul lives in Colorado Springs, Colorado, with his wife, Elizabeth, and their two children.
Other Titles In The "Time Thriller Trilogy" Series