Risen: 50 Reasons Why the Resurrection Changed Everything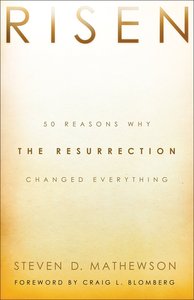 $

24.99

$

21.24
You Save: $3.75 (15%)
Paperback
What would happen if believers truly grasped how the resurrection of Jesus changes not just their own standing with God, but that it changes everything? In the spirit of John Piper's Fifty Reasons Why Christ Came to Die, Steven D. Mathewson unpacks the New Testament Scriptures that speak of the reasons Jesus was raised from the dead.

In fifty brief chapters, he offers readers faith-filled meditations on the primary passages on the resurrection, taking these ancient truths and applying them to contemporary life. With compelling insight, he shows why Jesus not only had to die, but why his resurrection was necessary and how our lives change when we understand and embrace this essential truth of the Christian faith.

- Publisher
You May Also Be Interested In
About "Risen: 50 Reasons Why the Resurrection Changed Everything"
What would happen if believers truly grasped how the resurrection of Jesus changes not just their own standing with God, but that it changes everything? In the spirit of John Piper's Fifty Reasons Why Christ Came to Die, Steven D. Mathewson unpacks the New Testament Scriptures that speak of the reasons Jesus was raised from the dead.

In fifty brief chapters, he offers readers faith-filled meditations on the primary passages on the resurrection, taking these ancient truths and applying them to contemporary life. With compelling insight, he shows why Jesus not only had to die, but why his resurrection was necessary and how our lives change when we understand and embrace this essential truth of the Christian faith.
- Publisher


Meet the Authors
Steven D Mathewson
The Revd Dr Steven D Mathewson is Senior Pastor of Dry Creek Bible Church in Belgrade, Montana, USA and is an Instructor at Montana Bible College. He is the author of The Art of Preaching Old Testament Narrative. He has written numerous articles and has contributed notes to The Quest Study Bible.