Rorey's Secret (#01 in Country Road Chronicles Series)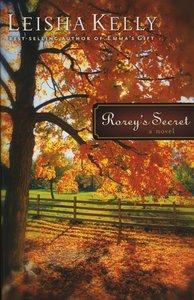 The Worthams and Hammonds are as close as two families could be, sharing almost everything on their Depression-era Illinois farms. So when a raging fire breaks out and threatens to destroy the Hammond farm, both families are affected by the tragedy. But how did the fire start? Several of the kids know the truth, but no one is talking. As the families try to overcome aching loss, misplaced blame, troubled relationships, and an upsetting secret, they once again find themselves clinging desperately to their trust in God.

In this compelling tale of faith, hardship, and community, acclaimed author Leisha Kelly continues the much-loved story of the Wortham family, who with courage and determination discover the power of forgiveness to restore and heal.

- Publisher
You May Also Be Interested In
About "Rorey's Secret (#01 in Country Road Chronicles Series)"
The Worthams and Hammonds are as close as two families could be, sharing almost everything on their Depression-era Illinois farms. So when a raging fire breaks out and threatens to destroy the Hammond farm, both families are affected by the tragedy. But how did the fire start? Several of the kids know the truth, but no one is talking. As the families try to overcome aching loss, misplaced blame, troubled relationships, and an upsetting secret, they once again find themselves clinging desperately to their trust in God.

In this compelling tale of faith, hardship, and community, acclaimed author Leisha Kelly continues the much-loved story of the Wortham family, who with courage and determination discover the power of forgiveness to restore and heal.
- Publisher


Meet the Author
Leisha Kelly
Leisha Kelly is the author of several popular historical fiction books, including Julia's Hope, Emma's Gift, and Till Morning Is Nigh. She has served many years on her local library board, continuing to bring good reads and educational opportunities to her community. Once a waitress, cafe manager, tutor, and EMT, Leisha is now a busy novelist and speaker who is active in the ministries of her church. She lives with her family in Clayton, Illinois.